"Time is longer than twine"—— so states one of the oldest English expressions used in times of distress.
In light of the brilliant performances of Cassey George and Kadecia Baird at this year's just concluded Junior Carifta athletics championships, that expression is most appropriate.
Because the time has arrived for all and sundry, including every stakeholder capable of providing meaningful support, to stop treating the discipline as a stepchild, and start taking athletics seriously, beginning with the two teenagers who have now justified themselves as this country's best prospects for future Olympics glory.
In two years of breathtaking accomplishments, 19-year-old Baird and 15 year-old George have done more to rouse Guyana from the doldrums of international athletics underachievement to some measure of respect, at least in the Caribbean —- without question the hotbed of global sprinting presently.
George's three gold and one silver after only two Carifta competitions, have already catapulted her into the competition's elite club of all-time best performers of her age.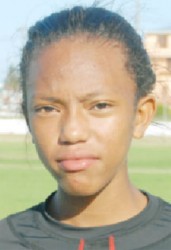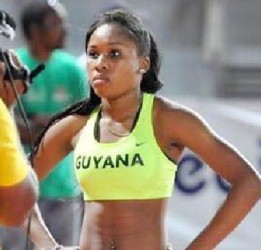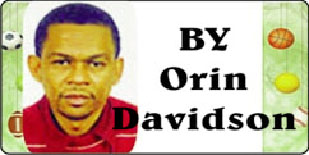 The levels of confidence and determination she exhibited in winning back- to-back 1500 metres titles, to add to the 800m silver she bagged in her debut last year, have never before been displayed by any 15-year-old Guyanese athlete. This year she so crushed the opposition in the 3000m in her maiden run at the distance, her splendid 10 minutes 03.27 seconds recording must be among the all-time top 10 best in the event since it was introduced in 1980.
George's four-medal tally is now second only to Vishwanath's Sukhmangal's record five, in the process tying Cleveland Forde's four, for Guyana's best Carifta performers.
Even if the young Linden runner is not the first Guyanese double gold medalist at a single Carifta meet, as is being erroneously reported elsewhere, she is by far the most accomplished of her age. The records state clearly that Lorrie Ann Adams who carted off the women's Under-20 800m and 1500m in 1988, is the first while Patrick Harding's triumphs in the shot and discus for men Under-20 in 1999, make him the second Guyanese to win the golden double.
Baird was also led into a false sense of history making, as she is not the first to win a Carifta sprint gold for Guyana, as that honor goes to Vigil Lewis who captured the 400m title among Under-17 boys in 1977.   But she surely proved that her 400m silver medal 2012 accomplishment at the World Junior championships, which made her the first ever from Guyana to medal at the global event at any level, was not a fluke.
She rebounded last Saturday to power past the strong Jamaican led Caribbean opposition to land her first Carifta gold in the 400m to improve on her bronze medal showing at last year's event.   And if to prove that the hamstring injury she suffered early in the New York High School indoor season, caused her a setback in 2013,   Baird fought her way to within five metres of carting off the 200m for the golden double on Monday, before tumbling to the ground just before the line when well in the lead, dipping unnecessarily.
Silver was good enough   though to help Guyana finish in the top five in the overall medals table, a remarkable feat, given it was achieved by merely two athletes, whose feats were amazingly met by a lukewarm reaction from major stakeholders.
It took Minister of Culture, Youth and Sport, Frank Anthony three days after the championships ended, and exactly five from the opening day when George and Baird won their first gold, to offer some measure of praise. And you have to wonder if George was not taken to his office on her return home, if ever the accomplishments would've been noted by the country's leading sports bureaucrat. And to add insult to injury none of the newspaper reports included any specific mention of Baird, who returned directly to her base at the University of Nebraska in the U.S. from Martinique.
Equipped also, with a gold medal from last year's   Central American and Caribbean senior championships, Baird has stated her next project for Guyana will be at the World Junior Championships within three months. And quite rightly so, she has fully justified her right to be at Eugene, Oregon to make an assault on that 400 event, to step one rung higher on the podium for gold.
Although the quiet, soft-spoken George has not so far publicly stated it, she also fully deserves the opportunity to lay claim for honors at the Worlds, if not this year, surely when it is staged next in two years. Her age might eliminate her from July's competition, but no stone must be left unturned to provide her with competition of Carifta caliber, the rest of 2014.
You cannot ask more at this stage from the youngster, who given her splendid qualities, seems capable of besting anyone in her path en-route to glory.
And yes, you guessed it quite correctly, the countdown has started for those stakeholders with the resources to go the extra mile to make the goals and aspirations of these two future track queens, and others along the way, attainable.
According to the reports, Anthony has plans to recruit a Cuban coach to work here, which along with the constant reminders about the still unfinished all-weather track facility at Leonora, seemed to be the focus of the discussions during George's visit.
That, though is far from adequate as the athletics fraternity would rather hear of a specific amount of hard cash being set aside from the Government sports budget to facilitate caliber competition expenses for competitors. For the umpteenth time, a Carifta Games team left these shores with noting more than a pitiful contribution of travel tax waivers, from the Government, when millions of dollars are spent for frivolous competition at a three- country – Suriname, French Guiana – Inter Guiana's meet. To deem this policy as hair-brained, is describing it mildly.
And what about Government's influence? Would it not have been a good idea for the Minister to issue a call for corporate Guyana to give something back to society by chipping in with much needed cold cash sponsorship of our athletes?
Such a call would've resonated with those conglomerates who know themselves and to a lesser extent Banks DIH.
This corporate giant which has been the leader by miles compared to others with its sports sponsorship over the years, started an ambassadorship programme last year for young competitors that provides   useful financial benefits.
But Banks dropped a bombshell by excluding athletics.
The programme includes a golfer, a tennis player, a swimmer, a cyclist, a table tennis player and a squash player, who with all due respect to the majority of the group, their performances didn't compare with the athletes.
Bank's decision was done in the midst of Baird's trailblazing world accomplishments and George's 2013 Carifta feats, along with the other medalists at the time.
Yet they were not thought of by Banks, which is a shameful blunder to say the least. There is no bigger no-brainer to suggest that at least Baird and George, would bring maximum rewards utilizing $1.5 million each over three years.
This shocker proves that the "who know who" mentality is still a factor here, even in the 21st century.
Hopefully, the Guyana Olympics Association (GOA) has a more objective approach with its Olympics Solidarity funding program, because there is no excuse for Baird and George not being added immediately to the list of beneficiaries.
Its President K. Juman-Yassin reportedly made a promise last year, so it's time the fraternity see words put into action.
As for the national athletics body (AAG), its task is unenviable, in not only facilitating the maximum potential of its athletes being realized. It will be forced to create a better climate of cordiality among clubs and officials presently, for its growing list of talented performers to thrive in.
Too much acrimony and conflict of interest is pervading the sport.
The AAG now has a better platform now to attract funding for athletics, given the Carifta achievements of 2013/14.
For starters, it has to immediately get on board with Baird's World Championships participation bid.
Any last minute planning would be inexcusable.
Around the Web