(Reuters) – The National Basketball Association said it would make an announcement today about its investigation into Los Angeles Clippers owner Donald Sterling as the fallout over his alleged racist comments began to pick up. Sterling is being investigated by the NBA over racist comments he allegedly made that have since sparked widespread outrage in the United States.
The NBA said in a brief statement that a news conference would take place but gave no further details.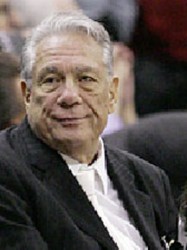 The NBA's announcement came shortly after auto dealer CarMax, a long-term sponsor of the Clippers, announced it was pulling its financial support of the team.
"CarMax finds the statements attributed to the Clippers' owner completely unacceptable. These views directly conflict with CarMax's culture of respect for all," CarMax said in a statement.
"While we have been a proud Clippers sponsor for nine years and support the team, fans, and community, these statements necessitate that CarMax end its sponsorship."
NBA commissioner Adam Silver said on Sunday that the league would "move extraordinary quickly in our investigation" after an audio recording was released of a racist rant allegedly made by Sterling.
The Clippers owner, who made his fortune in real estate, has not issued a statement but the alleged comments, which include telling a woman not to bring African-Americans to Clippers games, have drawn widespread criticism.
Around the Web