The Guyana Football Federation (GFF) signed a four year kit deal on Saturday at the Regency Hotel Suite with manufacturers Forward Sports International Incorporated to outfit their respective male and female national teams.
Addressing the gathering, Marketing and Sales Representative, Juliet Osbourne, stated that her company, which has its international office in Panama and has over 25 years of experience, was pleased to sign a contract with the federation as it is committed to development of the sport in the region.
"Forward Sports is committed to providing the Guyana national men's team, and national women's team with the best equipment to aid in their training and to enhance their performance in the major regional tournaments and also on the world stage," said Osbourne.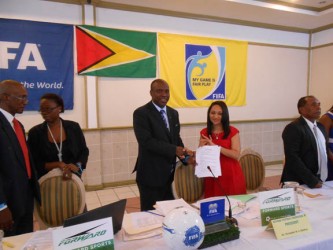 "To this effect, Forward Sports will provide the uniforms and equipment to the Guyana national men's and women's teams, for home and away games, for a four-year period. This also includes uniforms and equipment for training games, and uniforms for coaching and technical staff," added Osbourne.
She also disclosed that the GFF stood to benefit financially should the teams meet certain qualifying standards.
"Also, as an incentive to achieve the highest awards in football, Forward Sports will pay a bonus of US$50,000 to the Guyana Football Federation, should the senior men's national team qualify to participate in the 2015 CONCACAF Gold Cup.
"Additionally, should the Guyana senior men's national team qualify for the 2018 FIFA World Cup, Forward Sports will pay a US$100,000 bonus to the Guyana Football Federation," added Osbourne.
Osbourne said that she was grateful to GFF president Christopher Matthias for making the initiative possible.
"I would like to thank President Christopher Matthias and his executive committee for making this partnership possible, and we certainly look forward to working with the federation to put Guyana Football on a greater path to success to achieve these milestones".
Around the Web