GROS-ISLET, St. Lucia, Apr 28, CMC – A slew of brilliant individual performances shook the Headley/Weekes Trophy Final to life on Monday here but a career-best spell from leg-spinner Damion Jacobs and Jermaine Blackwood's second half-century of the match put Jamaica firmly in charge against Windward Islands.
Blackwood followed up his 94 in the first innings with an unbeaten 88 and defied a hat-trick from Kenroy Peters, as Jamaica reached 147 for seven in their second innings at the close on the third day of the finale to the Regional Four-Day Championship for an overall lead of 322.
Peters spiced up the contest, when he removed John Campbell (14), Andre McCarthy and Dave Bernard Jr with the third, fourth and fifth balls of his first over to etch his name in tournament history.
He became 16th bowler and the second from the Windwards, following compatriot and current coach Ian Allen, to take a hat-trick. He ended the day with four for 44 from 10 overs, adding the scalp of Jamaica captain Tamar Lambert for 20 in a second spell later in the day.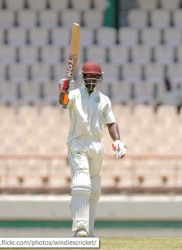 Jacobs had held centre stage in the first half of another compelling day at the Beausejour Cricket Ground, when he triggered a dramatic Windwards batting collapse and upstaged Devon Smith's 23rd first-class hundred, as the home team crumbled for 217 to concede a first innings lead of 175.
The 29-year-old Jacobs, delivering with a run-up and action similar to Australian legend Shane Warne, finished with eight for 47 from 22 overs.
It was the fifth-best figures by a Jamaican in the history of the modern West Indies first-class championship (from 1966 onwards).
In between the carnage, Smith gave further evidence that he remains the most accomplished Windwards batsman. He hit one-dozen boundaries in the top score of 111 from 182 balls in 250 minutes at the crease.
He reached his milestone from 153 balls, when he flicked left-arm spinner Nikita Miller past the diving short fine-leg fielder for his last boundary. It was his 17th Regional Four-Day hundred for the Windwards and his fourth against Jamaica.
Fellow opener Tyrone Theophile supported with 59, but no other Windwards batsman reached 20 with champion off-spinner Shane Shillingford not batting due to his finger injury sustained on the first day.
Jamaica chose not to enforce the follow-on and suffered an early setback, when opener Nkrumah Bonner was lbw to seamer Mervin Mathew in the first over.
Blackwood came to the crease and got the Jamaicans moving with typically crisp stroke-play, taking the visitors past 50 in the company of John Campbell.
Jamaica soon found themselves on the back-foot, when Windwards captain Liam Sebastien entrusted Peters with the final over before the tea break.
He had left-hander Campbell trapped lbw, Andre McCarthy caught at second slip for a first-ball duck playing defensively forward, the same stroke that brought the downfall of Dave Bernard Jr caught behind next ball for a duck, leaving the Jamaicans 51 for four at tea.
After the break, Blackwood found Carlton Baugh Jr and his captain Tamar Lambert steady allies, as they neutralised the Windwards' threat and stemmed the free fall of wickets.
Blackwood reached his 50 from an equal number of balls, when he pull/hooked a short, rising ball from Peters through mid-wicket for his 10th boundary.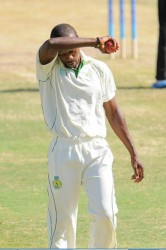 Baugh spent 45 minutes in the middle and was unusually subdued in a stand of 45 with Blackwood. Just when it appeared he was getting into the thick of things, the Jamaica wicketkeeper/batsman was caught at slip off Mathew for 14.
Lambert brought his usual calm approach and frustrated Windwards for another 45 minutes before he was caught behind off Peters for 20, nibbling at a delivery outside the off-stump, following a stand of 40 with Blackwood.
Sebastien, bowling his off-spin, struck in the following over, when Miller playing forward, edged a well-flighted delivery and was caught at slip, leaving the Jamaicans 137 for seven and Blackwood to bat the rest of the day with Jacobs.
Earlier, Jacobs snared all the wickets that fell before lunch and sent the Windwards crashing from the supreme comfort of 155 without loss to 189 for five at the interval.
Until his intervention, Windwards were in cruise mode, after they started the day at 113 without loss, and Smith and Theophile established a new Windwards record for the first wicket against Jamaica in this form of the game.
Theophile featured early, when he reached his 50 from 111 balls, driving left-arm fast bowler Sheldon Cottrell through wide mid-off for the last of his four fours.
He battled away diligently with a hand injury sustained while fielding during Jamaica's first innings and with Smith, had such control that the visitors briefly seemed to become unglued.
Scoreboard
JAMAICA 1st Innings 392
WINDWARD ISLANDS 1st Innings
(overnight 113 without loss)
D. Smith st Baugh b Jacobs                 111
T. Theophile c J.D. Campbell b Jacobs 57
S. Ambris c Bonner b Jacobs                   5
J. Charles c Bonner b Jacobs                 0
K. Lesporis c wkpr Baugh b Jacobs        1
R. Currency lbw b Jacobs                      0
*L. Sebastien not out                              11
M. Matthew c Lambert b Miller                7
K. Peters c J.D. Campbell b Jacobs        6
D. Johnson c Miller b Jacobs                     2
S. Shillingford injured –
Extras (lb9, w1, nb2)                              12
TOTAL (all out, 79 overs)                    217
Fall of wickets: 1-155, 2-162, 3-166, 4-176, 5-180, 6-193, 7-204, 8-215, 9-217.
Bowling: Taylor 12-1-41-0; Cottrell 7-1-39-0 (nb1); Bernard 6-0-21-0 (w1); Miller 27-11-48-1; Lambert 5-1-12-0; Jacobs 22-6-47-8 (nb1)
JAMAICA 2nd Innings
N. Bonner lbw b Matthew                     2
J.D. Campbell lbw b Peters                   14
J. Blackwood not out                            88
A. McCarthy c Charles b Peters                  0
D. Bernard c wkp Ambris b Peters             0
C. Baugh c Smith b Matthew                 14
T. Lambert c wkp Ambris b Peters        20
N. Miller c Lesporis b Sebastien             0
D. Jacobs not out                                     7
Extras (lb1, nb1)                                       2
TOTAL (7 wkts, 43 overs)                 147
Fall of wickets: 1-2, 2-51, 3-51, 4-51, 5-96, 6-136, 7-137.
Bowling: Matthew 11-0-35-2; Shillingford 11-1-33-0; Johnson 1-0-18-0; Peters 10-2-44-4 (nb1); Sebastien 10-4-16-1.
Position: Jamaica lead by 322 with three second innings wickets standing.
Points-to-date: Jamaica 5, Windwards 2
Umpires: G. Brathwaite, J. Wilson
Around the Web