GROS ISLET, St Lucia, CMC – Rookie leg-spinner Damion Jacobs has hailed a "perfect" day in the field, after his astonishing eight-wicket haul turned the Headley/Weekes Trophy Final in Jamaica's favour here yesterday.
The 29-year-old, in only his fourth first class game, finished with eight for 47 as the Windward Islands crashed from 155 without loss, to 217 all out in their first innings on the third day at the Beausejour Cricket Stadium.
It was the fifth-best figures by a Jamaican in the history of the modern West Indies first-class championship. "Everything came off perfect today. As a leg-spinner, not every ball is going to come out perfectly. Leg-spinners have a lot of bad balls. But today all the variations came out perfectly – the slider, the googly, the leg-spinner came out well," Jacobs said following the day's play.
"So I decided if everything was coming out well I should just take it and get a five or sixer and the team was cheering me on."
"It's a dream come true. Back home you normally get those wickets you don't expect it at the first class level but I thank God for it."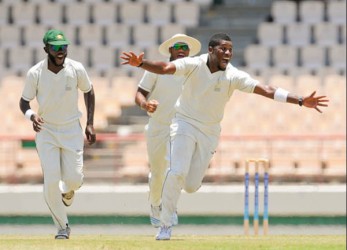 Jacobs only made his first class debut earlier this month against Trinidad and Tobago in Port of Spain, finishing with unflattering match figures of two for 90 from 28 overs.An ordinary outing against Combined Campuses and Colleges was followed by a decent performance against Barbados in the semi-final in Bridgetown, and Jacobs said he was determined to produce something big against the Windwards.
"In all my years of playing cricket all I wanted to do was play for Jamaica and when I got the chance I was elated and happy. I wanted to stay in the team and perform," he explained.
"I was chipping in now and then for the past three games … and I thought one game I have to go big. I was bowling well but I didn't get the hauls. So In this game I decided – I wouldn't say I was going for eight – I was going for four for five. This morning when I got the four wickets I said this is my chance and I took it."
Jacobs said the team was in need of a special performance especially after the loose display late on Sunday's second day, that allowed the Windwards to race to 113 without loss at the close.
"Yesterday we were flat in the evening and the skipper, the vice-captain and the coach talked to us very sternly about our performance in the field and bowling wise," he noted.
"I went back to the hotel and I said to myself somebody needs to stand up. I came back this morning thinking somebody needs to break this partnership."
Leading by 175 on first innings, Jamaica were 147 for seven at the close — and overall advantage of 322 runs.
Around the Web