-Blackwood, Ambris score breakthrough hundreds
GROS-ISLET, St. Lucia, CMC – Two promising batsmen, Jermaine Blackwood and Sunil Ambris, featured prominently with breakthrough hundreds before Jamaica claimed the Headley/Weekes Trophy with a tame draw against Windward Islands in the Final yesterday here.
Blackwood completed his maiden first-class hundred of 118, propping up the Jamaicans' batting, as they were dismissed for 200 in their second innings about half-hour before lunch on the last day of the finale to the Regional 4-Day Tournament.
This left the Windwards to chase a highly improbable, if not impossible target of 376 on a docile Beausejour Cricket pitch, and Ambris used the relaxed atmosphere to carve out his second first-class hundred of 102, as Windwards reached 204 for six in their second innings when play ended an hour before the scheduled close.
The result meant that the visitors clinched the Trophy by virtue of accumulating a higher number of points in the match. They ended with eight, including two batting points and three bowling points, while the Windwards finished with five.
The Headley/Weekes Trophy was inaugurated five years ago in honour of the late Jamaica and West Indies batting legend George Headley, and living Barbados and West Indies batting legend Sir Everton Weekes.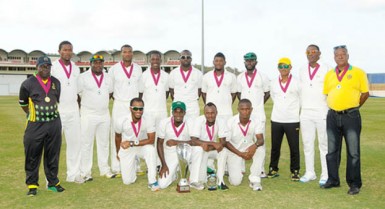 Blackwood, a graduate of the Sagicor West Indies High Performance Centre, struck 15 fours and two sixes from 170 balls in 3 ¾ hours.
He reached his hundred from 159 balls, when he dragged a delivery from left-arm medium-fast bowler Kenroy Peters into square leg for a single.
Blackwood shared two vital tail-end stands – 33 with Damion Jacobs for the eighth wicket and 30 with Sheldon Cottrell for the last wicket – before being caught at straight mid-wicket off Windward captain Liam Sebastien, bowling his off-spin, to bring the Jamaica innings to a close.
Peters was the most successful Windwards bowler with 6-66 from 17 overs, Mervin Matthew grabbed 2-35 from 11 overs and Sebastien grabbed 2-46 from 18 overs.
Ambris, a highly-regarded former Young West Indies batsman, batted almost 2 ½ hours, faced 120 balls and struck 13 fours and one six.
He reached his hundred from 118 balls, when he lofted Andre McCarthy, bowling his uncomplicated off-spin, over long-on for his only six.
Along the way, he put on 58 for the third wicket with veteran left-handed opener Devon Smith and shared 83 for the fifth wicket with his elder brother Romel Currency before he was caught behind chasing a delivery from McCarthy.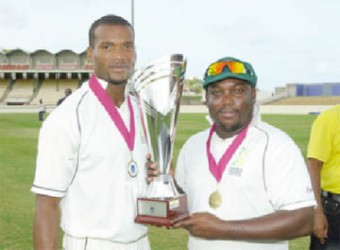 Smith hit 40 and fellow opener Tyronbe Theophile got 22, but no other Windwards batsman made it to 20.
McCarthy ended with 2-13 from five overs and leg-spinner Jacobs finished with 2-75 from 22 overs.
There was a bizarre twist to the day, when the players seemed content to end play at tea-time with both teams meeting halfway between their respective dressing rooms for the typical post-play shake of hands.
Ground-staff had extracted the stumps and started to water the outfield, but were soon informed that play would resume as scheduled after the break.
Under tournament rules, play on the last day could not be ended until 75 overs had been bowled on the day or 4 p.m. East Caribbean Time (Jamaica minus an hour), whichever is the later.
Scoreboard
JAMAICA 1st Innings 392
WINDWARD ISLANDS 1st Innings 217
JAMAICA 2nd Innings
(overnight 147 for seven)
N. Bonner lbw b Matthew                                                     2
J.D. Campbell lbw b Peters                                                  14
J. Blackwood c Lesporis b Sebastien                                118
A. McCarthy c Charles b Peters                                            0
D. Bernard c wkpr Ambris b Peters                                      0
C. Baugh c Smith b Matthew                                                 14
T. Lambert c wkpr Ambris b Peters                                   20
N. Miller c Lesporis b Sebastien                                            0
D. Jacobs lbw b Peters                                                           21
J. Taylor lbw b Peters                                                             0
S. Cottrell not out                                                                     8
Extras (b1, lb1, nb1)                                                                3
TOTAL (all out, 58 overs)                                                 200
Fall of wickets: 1-2 (Bonner), 2-51 (Campbell), 3-51 (McCarthy), 4-51 (Bernard), 5-96 (Baugh), 6-136 (Lambert), 7-137 (Miller), 8-170 (Jacobs), 9-170 (Taylor)
Bowling: Matthew 11-0-35-2; Shillingford 11-1-33-0; Johnson 1-0-18-0; Peters 17-3-66-6 (nb1); Sebastien 18-6-46-2
WINDWARD ISLANDS 2nd Innings (target: 376)
D. Smith lbw b Jacobs                                                                  40
T. Theophile b Cottrell                                                                22
J. Charles lbw b Taylor                                                                 2
+S. Ambris c wkpr Baugh b McCarthy                                  102
K. Lesporis c wkpr Baugh b Jacobs                                          8
R. Currency c Miller b McCarthy                                           18
M. Matthew not out                                                                   0
*L. Sebastien not out                                                                  0
Extras (b6, lb2, w3, nb1)                                                           12
TOTAL (6 wkts, 58 overs)                                                     204
Fall of wickets: 1-28 (Theophile), 2-40 (Charles), 3-98 (Smith), 4-120 (Lesporis), 5-203 (Ambris), 6-204 (Currency)
Bowling: Taylor 8-2-25-1; Cottrell 7-1-22-1 (w2); Jacobs 22-4-75-2 (nb1); Bernard 5-0-18-0 (w1); Campbell 9-0-34-0; Blackwood 2-0-9-0; McCarthy 5-1-13-2
Result: Match drawn
Series: Jamaica win the Headley/Weekes Trophy
Man-of-the-Match: J. Blackwood (Jamaica)
Umpires: G. Brathwaite, J. Wilson
Match referee: P. Felix
Reserve umpire: F. Maurice
Comments

LONDON, CMC – West Indies will go head-to-head with nemesis Ireland in their quest reach the International Cricket Council (ICC) 2019 Cricket World Cup, after being installed in Group A of the World Cup qualifiers in Zimbabwe starting in March.

BRIDGETOWN, Barbados, CMC – West Indies captain Jason Holder says planning has already begun for the International Cricket Council (ICC) World Cup qualifiers in March as the Caribbean side looks to book its spot in the 2019 one-day showpiece in England.

National lightweight champion, Dexter 'Cobra' Gonsalves will look to shake off some rust when he returns to the ring Saturday night at the Cliff Anderson Sports Hall on the 'Bad Blood' card.

With his historic 2017 campaign officially in the rear view mirror, star athlete Daniel Williams and his coach, Johnny Gravesande have their sights set on an even better 2018 season.

A High Court judge has granted an interim injunction restraining the TT Table Tennis Association (TTTTA) from taking any further action pursuant to its decision to select players Aaron Wilson and Yuvraaj Dookram for the Commonwealth Games.