Alfred Mentore who was recently reelected president of the Demerara Cricket Club (DCC) is vowing to continue the hard work in a bid to groom and churn out the country's future top players even as he attempts to turn the club into Guyana's premier sporting facility.
Speaking to Stabroek Sport on Monday, Mentore who was reelected head last Thursday after being challenged by current Georgetown Cricket Association (GCA) President Roger Harper said: "I have done my work over the years. I run on my ability to perform well and I will continue to help in the production of players from the nursery to the International levels."
The former national Under-19 player, admitted that he knows that a time will come when the mantle has to be passed to a successor but pointed out that before the time arrives he wants to ensure DCC is well placed.
"It's my fifth consecutive year as President and I really want to turn the club into something mega," said Mentore adding that whoever succeeds him as president will have a well-developed and prestigious heritage to work with for the future.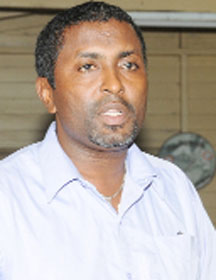 Speaking about the negative aspects which might have hindered a smooth flow of the electoral process, Mentore explained that the obstacles surrounding the elections were simply those of "dormant members" who had not been paying dues for as close to a quarter of a century wanting to be a part of the proceedings.
He lamented that it was unfair for members who have been consistent and prompt with their dues to be treated in the same capacity of those who have been inactive for years. According to Mentore he was simply following the act which states that if members are latent for more than three months then they must go through a membership renewal process.
The president further pointed out that he did not make the decision to have the inactive person barred from taking part in the elections, rather he allowed the executives who were in good financial standing to vote on the decision which came back with results 36-1 in favour of Mentore's decision.
However, he did note that if these person are interested in renewing their ties with the club a review of the individuals and their outstanding account and taking into consideration their willingness to comply with settling their outstanding dues, they will be allowed to function again as members.
Looking forward Mentore said the future is bigger and brighter for DCC and pointed out that the recently erected floodlights will ensure the club stands out in all aspects of cricket and other sports.
He was optimistic that the lights will encourage more activities, especially in the evening when persons are more than likely free from work. This he said will help to promote and sustain the club from both a credible and financial aspect, while the grooming players from all levels in the art of becoming more accustomed to playing cricket under lights which is an integral part of cricket regionally and internationally, is a part of the club's goal.
Although he declared that DCC's main priority is that of promoting hard-ball cricket, other sports such as hockey, basketball, football and squash are expected to find a home at the Queenstown based club once works on turning the venue into a multi-dimensional sports facility are completed.
Apart from the infrastructural aspect, Mentore added that the true remedy for moving forward is team-work and respect, declaring that the club has a "Successor plan" in order to elect the relevant executives. "I have put plans in place to ensure that persons can't walk off the road and ascend to the hierarchy of President," declared Mentore.
He concluded by thanking the club's various sponsors, his executives namely Patrick Harding who he noted "was a good Vice-President over the years" along with another executive in Terrence Cadogan. Praises were also showered upon national coach Garvin Nedd who he noted has done exceptional work with the players of all levels over the years, saying "one cannot put a price on the work Nedd has done".
The other members of the new executive are: Seon Greaves – Secretary,
Treasurer- Darren Torrington, Ulanda Wiltshire-office of Assistant Secretary/ Treasurer, Shalim Baksh-Public Relations Officer (PRO) Ian John and Ruth Howard- Administration department, Jamal Hinckson-Club Captain.
The Committee Members are: Alliance for Change (AFC) Parliamentarian and shadow Minister of Sport, Trevor Williams, Garvin Nedd, Lyndon Lyght, Kevin George and Ron Amos.
Around the Web