GROS-ISLET, St. Lucia, CMC Emerging Jamaican batsman Jermaine Blackwood has described as a "big achievement" his maiden first class hundred which helped Jamaica earn the coveted Headley/Weeks Trophy.
Blackwood, 22, scored 118 as Jamaica took first innings from Windward Islands to secure the trophy on the last day of the Regional Four-Day final at the Beausejour Cricket Field on Tuesday.
His second innings knock included 15 fours and two sixes which propped up the Jamaican second innings score of 200. "It's a big achievement for me because it was my first hundred," declared Blackwood, who represented Jamaica in regional under 19 competition. "This one is for my family and friends back home and all the players had confidence in me that I can do it and I went out there and did it".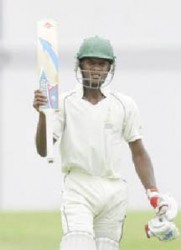 The promising Jamaican middle order batsman was also one of the key architects of his team's huge first innings score of 392 falling four runs short of a century.
"I believe in my ability and I know what I can do and what I am capable of. I got out in the first innings playing a careless shot," Blackwood admitted.
"I know once I went out in the second innings and bat sometime, play each ball on its merit. I will certainly get the hundred. As you can see I went out there and put in the work and the hundred came so I thank god for that".
Blackwood, who has been prolific at the Gros-Islet playing field, says he has been achieving targets for the season.
"I set myself some targets before I came in I set myself to make 500 runs for the first class season and as you can see I surpass that and that is a good achievement," said Blackwood who scored a double century at the Gross Islet playing field representing Jamaica in regional under 19 cricket.
"I should have gotten more centuries. I have to work harder next season and hopefully I can get more centuries".
Around the Web