The third annual Guinnesss Greatest of the Streets Linden leg got off to a flying start with eight matches at the Mackenzie Bus Park as One Mile/Half Mile and Constab scoring big 3-0 wins.
The five-day knockout competition is attracting 36 teams from the mining town.
One Mile/Half Mile humbled Goalgetters 3-0 in a pulsating encounter.
Keion Sears opened the scoring for the winners in the 4th minute before Dwayne Fraser struck a double in the 8th and 16th minute of play.
Constab was also severe on Exodus beating their opponents also by a 3-0 score.
Corlic Beckles netted a double and Jermaine Saul one for the winners.
In other results, Eldon Saul scored in the 12th minute to ensure a 1-0 victory for Cherokee Park over Classic Six.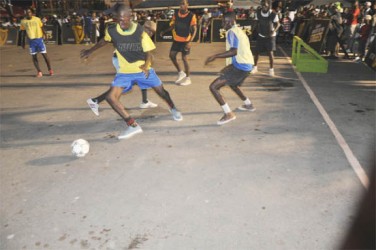 Blueberry Hill edged out Pokerburg 2-1 with Ezekiel Daw and Oral Peters scoring in the 8th and 15th minute respectively while Brian Jones netted for Pokerburg.
Scheme squeezed past Wisroc 3-2 with Andre Chester netting a double in the 8th and 20th minute while Al Chester scored in the 6th for the winners.
Minibus got the better of Alikyu 2-1 with Troy Nelson scoring twice for the victors while Ryabn Fraser netted for Alikyu.
Coomacka lost to the Amazing 2-1 in a penalty shootout while Unity gained a walk over from Main Street Phanters.
Before the start of play, there was a opening ceremony where remarks were made by Lee Baptiste, Guinness Brand Manager, Shondell Easton, Banks DIH Linden Branch Manager and tournament organizer Caeron Sealey.
Eight more matches are carded for the evening while the finals will take place on Saturday at the Mackenzie Bus Park.
The top two teams will advance to the National playoffs set for next month at the National Park in Georgetown.
The tournament is sponsored by Banks DIH Limited and Guinness.
Around the Web