Guyana's Port Mourant Training Centre 1 Volleyball team failed to medal after participating in the Caribbean Club Championship organized by the Trinidad and Tobago Volleyball Federation (TTVF).
The tournament, played at the Central Regional Indoor Sports Arena in Chaguanas, from April 18-21 was won by Toco Youth Volleyball Academy who defeated the Southern United Volleyball Academy (SUVA) on Easter Monday to cart away the US5000 first prize. Technocrats defeated Defence Force also in three straight sets (25-19, 25-18, and 25-17) to win the female category of the Player's League 4.
PMTC 1 lost to SUVA on the opening day by three sets to nil (21-25, 16-25, and 23-25) and also went under to Technocrats 20-25, 25-19, 23-25, 20-15 on the second day.
The team which was referred to as the visiting Guyana National team in the Trinidad Guardian defeated West Side Stars on Easter Sunday in straight sets 25-16,25-16, 27-25 but lost to Big Cepos in the quarter final later in the evening in straight sets (18-25, 19-25, 20-25).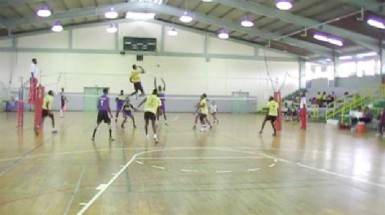 On a positive note after their good performances, two young players from PMTC 1 were approached by T&T clubs with offers to play in the Pro League later this year. Quacy Matheson of PMTC is already a guest player for TOCO in that league.
PMTC's coach Levi Nedd in an invited comment said he was pleased with the performance of his team citing that the team was a young one and the experience gained will serve them well.
He lamented the poor standard of refereeing at crucial times which affected the Guyanese and also raised the ire of some of the Trinidad teams but took the opportunity to express gratitude to all who contributed financially and otherwise to make the team's participation in the championship possible.
He said special mention must be made of the contribution and support given by Neil Kumar, Director of Sport, John Flores, President of the GVF, the Guyana Defence Force, Poonai Bhigroog of Poonai's Pharmacy, Sain & Sons Supermarket of Williamsburg, Corentyne, Spready's of Port Mourant, Vic Seubarran of Universal DVD, the managers of Skeldon & Albion Estates, the Manager of Guysuco Training Centre and all other volleyball supporters in Berbice.
The tournament attracted seven male teams, Technocrats, Defence Force, West Side Stars, Toco Youth V/Ball Academy, SUVA, Bib Cepos (Central East Port of Spain) and PMTC 1 and four female teams, University of Trinidad & Tobago (UTT), West Side Stars, Defence Force and Technocrats.
Around the Web