Tiger Sport and Motor Trend Auto have thrown their support behind Quest International for the staging of the Arrival Day T20 cricket encounter at Enmore on Monday. Tiger Sport has donated the balls while Motor Trend Auto presented a cheque of an undisclosed amount to the planning and organising officer Benedict Prince of Quest International on Tuesday at their location in Enmore.
Ato Singh of Tiger Sport said they are pleased to be associated with the competition since it will provide entertainment for the community while Kevin Singh of Motor Trend Auto stated that cricket is the number one sport there and this tournament should motivate the youths.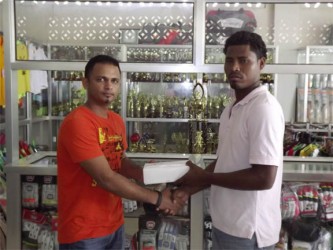 Prince thanked both entities for their input adding that it promises to be an exciting event.
The tournament will feature two teams from Georgetown and two teams from East Coast Demerara. It is an initiative by the hosts to make T20 cricket more competitive on the East Coast of Demerara and to showcase local talent.
Around the Web