(Jamaica Gleaner) Veteran Guyanese boxer Howard Eastman has emerged as the favourite to win the 2014 Wray & Nephew Contender series.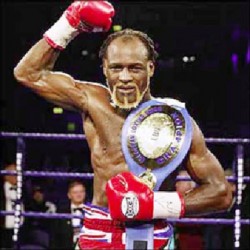 The 43-year-old Eatman took over the favourite tag after he knocked out Jamaican Derrick 'Guts' Spencer in round two of their scheduled six-round bout Wednesday night.
The bout took place at the Chinese Benevolent Association auditorium.
The knockout came at one minute 50 seconds inside the second round and earned Eastman his 48th win from 60 professional fights.
The bout was the penultimate fight in the preliminary round.
Eatman has now joined Jamaicans Donovan 'Police' Campbell, Ramel Lewis, Sakima Mullings Richard Holmes and Tsetsi Davis along with Barbadian Christopher 'Shacka' Henry in the quarter-finals.
The boxers are fighting for a top prize of J$2 million, with the runner-up earning J$500,000, third place J$250,000 and fourth J$200,000.
Around the Web