Undefeated featherweight contender Clive 'The Punisher' Atwell flew to the US yesterday to ramp up his preparation for his World Boxing Council (WBC) world championship bout in Mexico on May 24.
Before departing, the fighting pride of Guyana armed with the mental fortitude he claims would allow to become world champion, had a message for the nation.
"Prepare to salute another world champion."
Atwell 12(7)-0-1will commence a two-week training stint at Gleason's Gym in Brooklyn, New York before flying to Acapulco, Guerrero, Mexico to face knockout artist Jhonny Gonzalez 55(47)-8-0 in his backyard.
"Every time they put us against the odds we produce and we come out victorious" said the 25-year who has not learned to lose since turning pro four years ago.
Atwell Focused 
"I've always been focused, I'm at the stage where just the mind and body has to work together. I'm heading into an environment where past and present fighters train and I'm focused on the training ahead and winning the fight."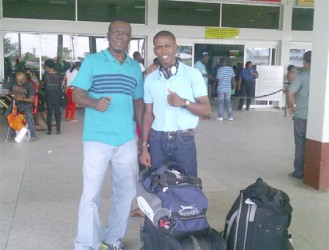 The challenger is brimming with confidence, but does he have the necessary tools to get the job done? Atwell thinks he does.
"Every boxer has the tools to get the job done, a pair of eyes, hands and feet, but the application of the tools is different. When you talk about the brain, mind and body working in unison, that is what is most important."
While at the world famous fight factory, 'The Punisher' will be under the tutelage of Lennox Daniels who stated that the stint will be used to fine tune Atwell's technique.
Daniels has done his homework on Gonzalez and aims to exploit the champion's weaknesses.
"We looked at over 15 fights of him on tape, everybody. knows Gonzalez is a great fighter, but we stand a great chance, we have the speed and the power and we will be looking to exploit his weaknesses and come out victorious."
If Team Atwell is correct, Guyana get ready to salute another world champion.
Around the Web