Demerara Bank Limited (DBL) for the third year has thrown its weight behind the Berbice Cricket Board (BCB) ahead of the 2014 Independence T20 Cup 2014 set for May 25 at the Albion Sports Complex Ground, which will be played under floodlights for the first time.
At a simple ceremony held recently at the Rose Hall Branch of DBL, Earlene Dawson, Branch Manager of DBL handed sponsorship cheque to tournament representative Mahendra Ramdihall in the presence of other staff members. Dawson said that her company was pleased with what they saw last year and readily decided to renew the sponsorship for 2014. She indicated that the bank serves the people of Guyana with six branches across the country and wished the tournament success adding that she was pleased to know that so many charitable organisations will benefit from this event. Receiving the cheque on behalf of the organisers, Ramdihall, thanked DBL for coming on board again and assured them that they will be satisfied with the mileage and the way the tournament will be conducted.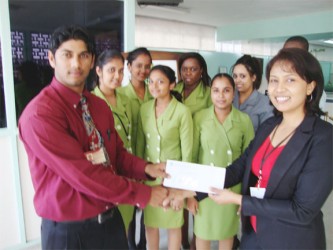 Transparency and accountability has been the hallmark of the first two tournaments and this year will be no different.
The two cricket clubs identified for assistance this year are Blairmont Cricket Club and Upper Corentyne Cricket Association (UCCA). Last year Albion Cricket Club and Bermine Cricket Club were assisted with sums of $G100, 000. In addition, three orphanages, two schools, the host venue Albion Cricket Ground are earmarked to gain from this mega event. For the first time, funds will be put aside for health. There will be two semi-finals with Berbice 'A' taking on East Coast Jaguars from 11am and Berbice 'B' taking on Georgetown Cricket Association (GCA). The winners will battle in the final from 19:00hrs under lights. Preceding the final will be a winner take all softball match between arch rivals Memorex and Universal DVD.
Around the Web