The ninth edition of the Regional Basketball Conference will tip off in the conferences of Georgetown and East Coast of Demerara on May 10 at the Cliff Anderson Sports Hall.
During the launch of the tournament yesterday at the National Resource Centre, it was disclosed that schools from all across Guyana will be divided into zones (Georgetown, Linden, East Bank, East Coast and Berbice) vying for a chance to represent their zones in the National Schools Basketball Festival (NSBF) later this year. As a result, the institutions will be preparing assiduously for the basketball tourney which is coordinated by Youth Basketball Guyana (YBG).
During yesterday's launch, Director of YBG, Chris Bowman highlighted the importance of the school programme and its impact.
"We are in the business of student athlete development and after these students are finished playing they give back to the programme.
"There is a greater value far beyond just the tournaments, we are shaping lives and we would not be doing this without the assistance of the National Sports Commission (NSC) and our major sponsors" Bowman disclosed.
Director of Sport Neil Kumar who was also present for the launching gave some insight on the birth of the tournament.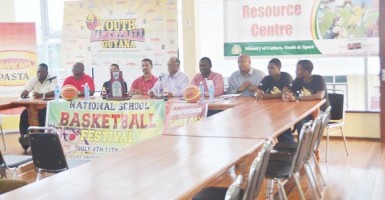 "The genesis of this tournament came about through organizing the Inter Guiana Games (IGG) because the government facilitates the tournament and looks to the associations for the teams and we were findings it extremely difficult.
"The tournament has grown out of a need and to the sponsors, your sponsorships have grown into national teams," Kumar mentioned.
President of the Guyana Amateur Basketball Federation, Nigel Hinds endorsed the tournament while challenging the YBG to also to nurture the street talent.
"This is a great moment in some ways to have the GABF sitting next to the NSC and director of the YBG… we have had our ups and downs but we are working to remove any of those bumps and I am happy to say that we fully endorse this tournament.
Youths get to develop various skills so the whole trust of having the youths involved, we feel is to have sport as an integral part of youth development in student athletes" Hinds added.
Sponsors for the tourney include YBG, Banks DIH Limited, Digicel, Beharry Group of Companies and the NSC.
Around the Web