Unified tag team work from the Demerara Cricket Club (DCC) duo of Chris Barnwell and Paul Wintz steered their team to a 33-run win over the Port Mourant Cricket Club (PMCC) team yesterday in the final of the Guyana Cricket Board's (GCB) double-wicket festival, played at the Albion Sports Complex ground.
In front of a vocal crowd at one of Guyana's most historic cricket venues, cricketers were paired with each other in a bid to score as much runs as possible from an allotted six overs per side. Players also had to ensure that they were not dismissed in the process which would result in their partner having to do the remainder of the job by him or herself.
During the mouth-watering final between DCC and PMCC, the team from Queenstown managed 38 for 2 after being placed on the back foot early due to the big-hitting Barnwell being caught behind off the bowling of Joshua Ramsammy for 7, leaving Wintz tasked with posting a defendable total.
The right-arm national seamer then bravely chipped away at the opposition's bowlers picking up ones and two and managed a pair of fours in his workman-like 25 before he was bowled by Devendra Thakoordeen. Needing just 39 runs for a win and bragging rights for upsetting the competition's big teams, PMCC were dismissed for 5 runs inside two overs.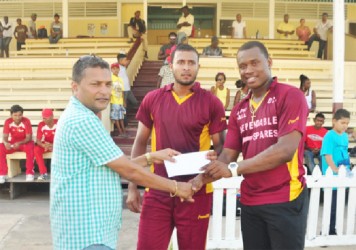 Ramsammy was the first to go for duck after he was expertly run out by Barnwell leaving the score 0 for 1. Thakoordeen fell in similar fashion for nought as the two all-rounders happily rejoiced over their tense win. PMCC's five runs came virtue of wides conceded in the first over.
The PMCC pair of Thakoordeen and Ramsammy raised eyebrows earlier when they beat the Georgetown Cricket Club's (GCC) batsmen in Leon Johnson and Robin Bacchus in the opening round, followed by a comprehensive win over Albion Cricket Club spin twins Devendra Bishoo and Gudakesh Moti-Kanhai whom they defeated in the semi-finals.
The DCC pair of Barnwell and Wintz earned their spot in the final after securing victories against Abdur Razack and his partner Chitnand Shivram first, then going on to knock out the twosome of Adrian Sukwah and Yugendra Harinarine who gained a bye to the semi-final round after the team of Tagenarine Chanderpaul and Zaheer Shadir of Everest failed to show up.
Earlier, the first round saw the pair and Guyana Amazon Warriors debut selectees Johnson and Bacchus eliminated by the PMCC pair. The GCC duo made 27-2 from 3.3 overs with Johnson (14) and Bacchus (11), both being removed by Ramsammy who in reply cruised to 28-1 in 4 overs with Ramsammy (17) and Thakoordeen (3).
The other two preliminary matches saw Bishoo, who hit a four and a six (12) and Moti (13) who struck two fours finishing their innings at 34-3 in 3.5 overs, going on to make quick work of Devendra Lalsa and Kevon Jawahir both succumbing to Moti.
Barnwell (0) and Wintz (21) made 29-2 in 3.5 overs then bowled out the pair of Razack (0) and Shivram (8) for a measly nine runs in 2.2 overs, advancing to the semi-final round of the festival.
The semi-final round was a bit more exciting and unpredictable as the DCC pair led by a pugnacious 42 from Barnwell which featured one six and one 12 (which is awarded to a batsman who managed to hit the long-off side screen) returning to post a formidable 57 for 2 in 5.2 overs against Sukwah (5) who was bowled by Wintz and Harinarine (23) was out caught off the bowling of Barnwell, for a total of 35 runs.
Semi-final two saw PMCC's Thakoordeen smashing two sixes in his unbeaten 31 and Ramsammy (5) against the Albion spinners Moti and Bishoo as they posted a daunting 44 from their allotted 6 overs. Chasing 45 for a spot in the finals, PMCC dished out their second upset win of the day, dismissing Bishoo and Moti for 2 and 12 respectively and restricting them to 25 for 2 in 2.1 overs.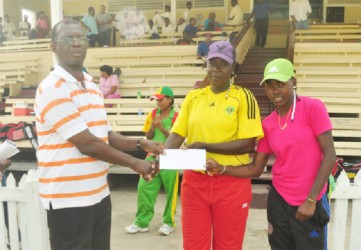 The female best out of three match between Shemaine Campbell and Irva Giddings versus Tremayne Smartt and Mandy Mangroo, saw the Rose Hall Town pair of Giddings and Campbell emerging as winners after three competitive rounds.
The female winners received the GY100, 000 for their efforts while the runners-up carted off a handsome GY50, 000 prize. The male winners received GY500, 000 while the runners-up walked away with GY200, 000.
Also an act of courtesy by the DCC winning pair towards the fielders who played an integral part of the tournament, saw the youngsters receiving US$200 for their valiant and assistive efforts during the various rounds of the tournament.
Around the Web