West Demerara businessman Lalta Digamber was reelected as President of the West Demerara Cricket Association (WDCA) at the organisation's biannual general meeting which was held at the Wales Community Centre on Wednesday.
Digamber, the proprietor of Brandi's Furniture and West Side Agricultural Products has been at the helm of West Demerara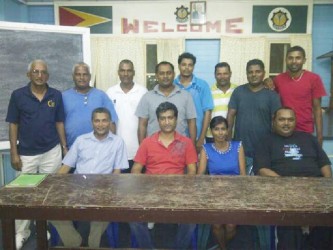 Cricket since April 2012. He was re-elected unopposed. Guysuco's Wales Estate Industrial Welfare Officer Ive Persaud performed the duties of Returning Officer for the elections.
Also returning unopposed to office were Vice-President Anand Sanasie, Secretary Sejwattie Ramrattan, Treasurer Hardeo Oudit, Assistant Secretary Krishnchand Mangal and Marketing Officer Sudesh Persaud.
The new faces on the Executive are Reaz Dean as Public Relations Officer and Omar Hussein as Chairman of the Competitions Committee. The general meeting also appointed five members to the Competitions Committee namely Dhanpaul, Ramesh Thakur, Navindra Persaud, Ramesh Persaud and Robin Khan.
In his Executive Report, Digamber outlined the achievements and work of the association over the past two years and spoke about future plans. He was quite emphatic in stating that quite a lot of work was done resulting in West Demerara producing national youth cricketers. He also praised the WDCA Under-19 team for its consistent performance.
Digamber, who would be serving his final term since the WDCA Constitution does not permit him to serve more than two consecutive terms, also boasted of the strong financial position of his association.
Around the Web