Andre Millington yesterday won the Flying Ace Cycling Club 60-mile cycle road race for cyclists in Berbice.
The Flyinf Ace Cycle Club member outsprinted teammate Kurt La Rose and Thuran Harris to take the top position.
The event, which was organized by Randolph Roberts coach of the Flying Ace Cycle Club and sponsored by Furniture World of Main and King Streets, New Amsterdam and First Impression Hotel of Hampshire, Corentyne, got underway at 09:30am outside Furniture World.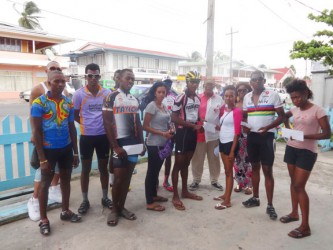 The cyclists then proceeded to the No 43 Bridge before turning back to finish at Main and Alexander Streets, New Amsterdam. Elijah Brijjader was fourth, Wasim Hassnu, fifth, Audrel Ross sixth,
Jamal Jarvis seventh and Syborne Fernandez in eighth.
Millington and La Rose took three sprint point prizes each and Harris two.
Marica Dick was the winner of the female category.
Around the Web