The Guyana Baseball League (GBL) Easter Baseball Camp series concluded yesterday with camps in New Amsterdam, Cornelia Ida and Tuschen.
According to a press release from the GBL, some 320 children participated in the camps including newcomers Fly Jamaica Airways William Street Warriors, an enthusiastic group of girls, under the management and coaching of Inga Henry of the Ministry of Education, Allied Arts Division.
Elias Sosa, a former major League Pitcher with a distinguished career, who is now Latin America Coordinator for Major League Baseball (MLB), assisted the GBL coaches and conducted coaching sessions for camp participants at the Georgetown Cricket Club (GCC), Georgetown on May 2,3 and 4. According to the release, Sosa was very impressed with the enthusiasm and discipline on display by the attendees.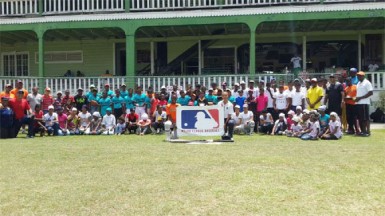 He has indicated that MLB would be interested in conducting a coaching seminar for the entire English and Dutch speaking Caribbean and Latin America area in Guyana and President of the GBL, Robin Singh has pledged to make this offer a reality in the near future. Singh expressed thanks to the GCC for the use of its facility and to the coaches and children who participated in all of the camps, he said "Baseball is a relatively inexpensive sport to play and with the invaluable work of our US based Vice-president Mark Gafur in securing equipment donations, more children are being afforded the opportunity to play as our participation numbers grow so does our partnership with our sponsors, a pleasing momentum has been achieved," he said.
"Baseball will now take a break for 11 weeks as our players turn their attention to CXC and end of term exams, camps and tournaments are planned for the long school break in July and August," ended Singh.
The tournament was sponsored by E-Networks Inc., Sterling Products Limited, Fly Jamaica Airways and Nobel House Sea Foods.
Around the Web