Guyana's debutant Sherwin Felicien hoisted the Golden Arrowhead as the local shooters joined their regional counterparts at the 2014 West Indies Fullbore shooting championships which opened yesterday at the Twickenham Park ranges in Spanish Town, Kingston, Jamaica.
Seven countries – Antigua/Barbuda, Barbados, Bermuda, Guyana, Trinidad and Tobago, hosts Jamaica and a visiting Canadian team are competing in the five-day tournament amidst drought-like conditions, humid and dry on the Caribbean island.
Chief-of-staff of the Jamaica Defence Force (JDF) Brigadier Antony Anderson welcomed the visiting teams before firing off the first shot to officially declare the championships open.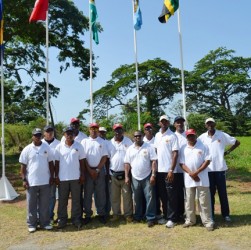 Brigadier Anderson was assisted by President of the West Indies Fullbore Shooting Council (WIFSC) Norris Gomez of Trinidad and Tobago and veteran Jamaican shooter Major retired John Nelson.
The actual competition will get cracking today but the shooters were involved in practice shooting at 300 and 600 yards ranges yesterday while a Welcome Reception was held last evening at the Jamaica Rifle Club.
The Guyana delegation arrived in the wee hours of Sunday morning and Team Captain Mahendra Persaud held a meeting with the squad which included United States-based shooters Sigmund Douglas and John Fraser.
The individual competition will end on Thursday while the two team matches are carded for Friday and Saturday.
Around the Web