Guyanese Lennox Braithwaite, the reigning West Indies Fullbore individual 'X' Class shooting champion has taken the lead while United States-based compatriot John Fraser is in charge of the 'O' Class on day one of the individual competition at the West Indies Fullbore shooting championships at Twickenham Park ranges in Spanish Town, Jamaica.
Braithwaite, yesterday, dropped six points to finish the day with an overall 129 points with six V-bulls as the weather dictated the day's events, first with winds changing from left to right before a wind storm later in the afternoon made the situation difficult for all the shooters.
The reigning two-time champion was consistent shooting 34.3 at 300 yards, 48.1 at 600 and 47.2 at 900 yards to lead Canadian Alpar Katona who shot an overall 128 points with six V-bulls including a possible at 300 yards.
The experienced Norris Gomez of Trinidad and Tobago is third overall and second among Caribbean shooters with 127 points and 11 V-bulls including a possible at 600 yards.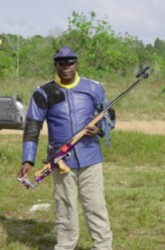 Another Canadian Serge Bissonnette is currently in fourth place with 127 points with eight V-bulls.
Jose Nunez of Jamaica and Guyanese Ransford Goodluck are currently in fifth and sixth places with scores of 126.10 and 125.8 respectively.
Goodluck shot 31.2 at 300 yards, 47.4 at 600 and 47.2 at 900 yards.
National vice captain Dylan Fields is 11th overall with 123 points and five V-bulls.
Fraser who holds the 12th position overall is the leader in 'O' Class with 122 points and four V-bulls.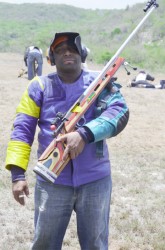 He shot 30.2 at 300 yards, 47.2 at 600 and 45.0 at 900 yards to lead Oscar Waldron of Trinidad and Tobago with 119 points and seven V-bulls while Guyana's Leo Romalho is third with 118.7.
There were three possible scores at 300 yards with Bissonnette shooting 35.4 and Katna 35.3 while Trinidadian Michael Perez also shot 35.3.
Braithwaite dropped just one point at 300 yards range with 34.3 out of a highest possible score (HPS) of 35.7. National captain Mahendra Persaud shot 33.1, Terrance Stuart 33. 0 and Goodluck 31.2.
At 600 yards, Braithwaite shot 48.1, Stuart also 48.1, Fields 47.5, Goodluck 47.4, John Fraser 47.2, Leo Romalho 46.3 while Paul Slowe and Sherwin Felicien had scores of 45.2 and 45.1 respectively.
Trinidad and Tobago's Norris Gomez shot the only possible at 600 yards with a score of 50.5.
Today will be another intriguing day and could be made more interesting with rain forecast for the morning period over Jamaica.
(Photos and story courtesy of Troy Peters of the GNRA)
Around the Web