— GSCL/NSC Independence Cup
Favourites Regal XI won the top prize in the Open Category of the inaugural Georgetown Softball Cricket League Inc./National Sports Commission Independence Cup which concluded at the Everest Cricket Club ground last Sunday evening.
Regal XI defeated Memorex of Berbice by seven wickets in the final. Their victory came after their Over-40 teammates had claimed that category's top prize with a four-wicket victory over Frontline Rangers while Trophy Stall Angels and Mike's Wellwoman were joint winners in the female category.
In the Open category, Regal XI, who won the Guyana Floodlights Softball Cricket Association/Trophy Stall T20 title less than two weeks ago, won the toss and fielded. Memorex set a competitive total of 154-8 off their 20 overs, with David Lukenauth 37 (3×4, 2×6), Waheid Edwards 32 and Enaam Singh 18 (2×6) being the principal scorers.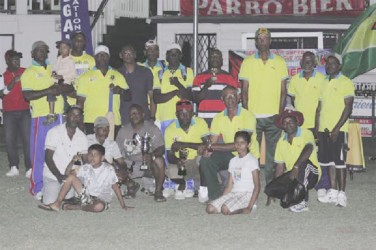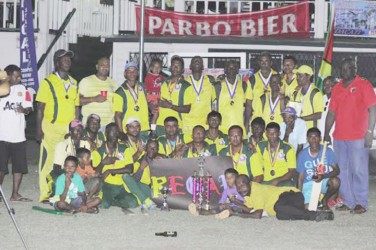 Chien Gittens took 3-24 for Regal XI while Lakeram Roopnarine, Troy Kippins and Safraz Esau, picked up a wicket each.
Replying to Memorex's score, Regal XI reached 155-3 from 17.2 overs, thanks to an unbeaten 62 (5×4, 3×6) from Gittens which earned him the Man of the Match award. He was supported by 23 from Richard Latiff and 18 from Kwesi Joseph. Roy Jafferally took 2-30 for Memorex. In the Master's category, Regal Masters won the toss and invited Frontline Rangers to take first strike. Frontline Rangers managed to reach 153-5 in their 20 overs. They were led by Mohammed Rafiek 63 (3×4, 3×6), Manoj Malone (24) and 21 (2×6, 1×4) from Kishon Mohabir.
Rafiek and Malone, had earlier joined forces after Sheik Mohammed was caught off the bowling of Clyde Butts and the pair added a 60-run, second wicket partnership, while Rafiek and Shaun Massiah (11) added an additional 40 for the third wicket, following the demise of Malone.
Satrohan Seeraj took 3-24 for Regal Masters, whose batting was led by Younis Yusuf's 39 which included five fours, Eric Thomas's 29 (2×6, 1×4) and 28 (4×4) from skipper Mahendra Arjune as they reached their target of 154 for the loss of six wickets in 18 overs, despite Rafiek's 3-36.
At the post tournament presentation, Speedboat's Greg Singh was named Man of the Series in the Open category after scoring 205 against Karibee Boys on the penultimate day of the tournament, for which he received a three piece living room suite, while Regal took home $500,000, a trophy and 15 medallions. Memorex received $200,000, a trophy and 15 medallions as well. In the Master's Category, Regal Masters carted off $400,000, a trophy and 15 medallions and Frontline Rangers $100,000, a trophy and 15 replicas.
Rafiek was named Man of the Match in the finals and Floodlight's Greg DeFrance the Man of the Series.
In the female category, Trophy Stall Angels and Mike's Wellwoman agreed to share the spoils evenly, after their game was cancelled due to insufficient playing time, following their semifinal victories over Regal Champs and Karibee Strikers.
Around the Web