After a month without competitive racing, the cream of the nation's wheelsmen will renew their rivalry tomorrow when Hassan Mohamed resumes his cycling calendar.
The third annual Powerade 11-race programme billed to pedal off at 09:00hrs is set to transform the National Park into a cycling speedway as the riders will unchain their competitive juices ahead of the 32nd annual Independence three-stage event next weekend.
Team Alanis' captain, Paul Choo-Wee-Nam will look to defend his title in the feature 35-lap event, in which he sprinted to victory last year in a time of one hour, 18 minutes and 12 seconds.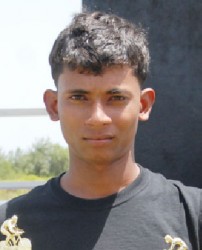 However, with the likes of 2012's most successful cyclist, Alanzo Greaves who won 22 races, this season's most decorated rider, Orville Hinds, national cyclists, Marlon Williams, Robin Persaud, Raynauth Jeffrey and Paul De Nobrega among others, Choo-Wee-Nam will have his hands full.
Team United's Hamzah Eastman will look to repeat the victory he had in the Juveniles race in 2013, while the experienced Junior Niles of Team Coco's is the defending champion of the Veterans Under-50 event.
Other categories scheduled to be contested are the 12 to 14 years boys and girls (3 laps), veterans over-50 years (5 laps), veterans over-60 years (5 laps), upright cyclists (5 laps), BMX boys open (3 laps), BMX boys 12 to 14 years (3 laps), BMX boys 9 to 12 years (3 laps) and BMX boys 6 to 9 years (3 laps).
Mohamed said his aim in 2014 is to surpass the 42 events he organized last year, he however stated that that feat can only occur through solid support from corporate Guyana.
He noted that Banks DIH Limited which imports and distributes Powerade has been very generous in sponsoring events under his purview over the years, but added that more sponsorship will mean additional avenues for the riders to showcase their talents.
Outdoor and Events manager of the conglomerate, Mortimer Stewart is expected to be on hand to assist in the presentation of prizes to the top performers.
Around the Web