—retains WI fullbore shooting title but narrowly loses grand aggregate title
Guyana's Lennox Braithwaite retained his West Indies Fullbore shooting title but was upstaged by Canadian Serge Bissonnette for the  Grand Aggregate title on the final day of the Individual Competition at the West Indies Fullbore shooting championships being held at the Twickenham Park ranges in Spanish Town, Jamaica on Thursday.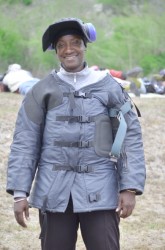 It was Braithwaite's third successive title win following success in Guyana in 2012 and Barbados last year.
Bissonnette was always a threat to Braithwaite over the three days of competition but in the end the Canadian recorded a grand aggregate of 384 points and 23 V-bulls to edge out Braithwaite who shot 383 points with 24 V-bulls.
Trinidad and Tobago's Norris Gomez amassed 381 points with 28 V-bulls to place third overall and runner up to Braithwaite for regional honours.
Jamaican David Rickman recorded 377.21 for fourth, Alpar Katona of Canada 376.18 (fifth),Jamaica 's Wayne McNair (sixth) with 375.17  Guyana's Ransford Goodluck (seventh) with 374.28, Michael Perez of Trinidad and Tobago with 371.20 (eight), Guyana's Captain Mahendra Persaud (ninth) 369.23 and Marlon King of  Barbados 369.14 (tenth).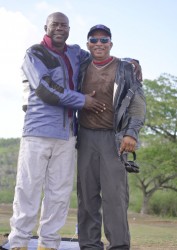 Goodluck had a remarkable day shooting a possible 50.3 at 500 yards and also led all scorers at the 1000 yards range with 48 points with 3 V-bulls. He also had scores of 33.5 at 600 yards but struggled with 39.3 at 900 yards.
Katona was second at 1000 yards with 47.2, Scott Murray also of Canada with 47.2, Karen Anderson of Jamaica with 47.2 and Guyana's Sigmund Douglas with 45.2.
Persaud placed second at 900 yards with 47.3 behind Trinidadian Joseph Ezekiel who shot 48.6.
Thomas Greenaway was third of Antigua/Barbuda was third with 47.1 and Wayne McNair 47.1.
Braithwaite was also crowned short range champion with a grand aggregate of 247.16 to edge out Bissonnette who had 246.16 and Gomez 245.19.
Jamaican Anderson was the top shooter in 'O' Class with a grand aggregate of 361 points and 13 V-bulls followed by Guyanese Sigmund Douglas with 358.17 and Leo Romalho 358.15.
The first of two team matches will take place on Friday with six countries battling for the Milex Cup, symbol of long range shooting supremacy in the West Indies over 900 and 1000 yards ranges.
Guyana are the defending champions and at press time the management committee were in a meeting to select the national team to contest the match.
The Short Range title currently held by Jamaica will be up for grabs over 300, 500 and 600 yards on Saturday.
Around the Web