Guyana made a clean sweep  of the team titles  at the West Indies Fullbore Shooting championships when they carted off the prestigious Anchor Cup Short Range title, Saturday at the Twickenham Park ranges in Spanish Town,  Jamaica.
It was another clinical performance by the Guyanese shooters as they romped to victory by 14 points over arch-rivals and last year's winners Jamaica as challenging winds made it difficult for the teams in the match held over 300, 500 and 600 yards ranges.
Guyana recorded a grand aggregate of 1119 points and 75 V-bulls in their triumph followed by Jamaica with 1105.58, Trinidad and Tobago 1068.44, Antigua/Barbuda 1050.33 and Barbados 1022.25. It was the fourth consecutive victories for Guyana on Jamaican soil with the Guyanese marksmen winning in 2000, 2005, 2008 and now in 2014.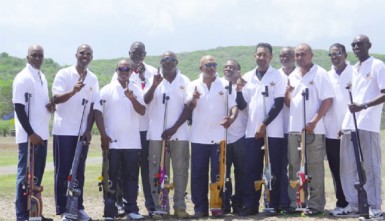 Regional Individual champion Lennox Braithwaite piloted the victory with a total  of 146 points and 9 Vs with scores of 49.4, 48.2 and 49.3 from a Highest Possible Score (HPS) of 150.
Vice Captain Dylan Fields was also in good form scoring 144.13 (49.5, 48.4, 47.4) while Leo Romalho recorded 144.11 (49.5, 47.3, 48.3).
Captain Mahendra Persaud contributed 142.14 (46.6, 48.3, 48.5) Ransford Goodluck 140.9 (47.3, 46.4, 47.2), Sigmund Douglas 136.8 (46.4, 48.3, 42.1), Sherwin Felicien 135.3 (44.0, 45.2, 46.1) and Ryan Sampson 132.8 (43.1, 46.3, 43.4).
The Team scores were 373.28 at 300 yards, 376.24 at 500 yards and 370.23 at 600 yards.
The Guyanese had retained the Milex Cup Long Range title on Friday also with a dominant performance over the four other competing countries.
Captain Persaud said the team's performance was exceptional. He added that that teamwork was the hallmark of the victory.
He showered praise on the shooters, coaches and support staff for laying the platform for the team's success.
Great Britain coach Ian Shaw who worked with the local shooter earlier this year in Guyana was also came in for high praise.
The presentation ceremony was scheduled to take place last evening at the Jamaica Rifle Club in Kingston.
The Guyana contingent will return home this evening after a successful week of competition.
Around the Web