Robin Persaud warmed up nicely for the Independence Three-Stage Road Race by winning his second race of the season yesterday at the National Park.
The Carlton Wheelers captain out pedaled a field of Guyana's best wheelsmen and carted off the spoils of the feature 35-lap event of the third annual Powerade 11-race cycle programme.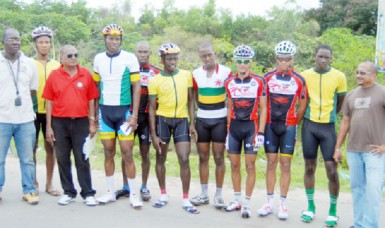 Persaud, 39, rode a tactical but attacking race and emerged winner in a swift one hour, 14 minutes and 11 seconds. The second fastest time for the event this year.
He led Team Coco's Christopher Holder and top veteran, Godfrey Pollydore onto the podium.
Team United's Orville Hinds, Marlon 'Fishy' Williams and Paul DeNobrega rounded out the top six paid positions.
Persaud also took home a sprint prize as did Pollydore (one) Williams (two), Raynauth Jeffrey (two), Alanzo Greaves (one) and Alonzo Ambrose (one).
Quick Results
Juveniles (10 laps)
1st) Michael Anthony 2nd) Alonzo Ambrose 3rd) Jamal John
Mountain Bike
1st) Raynauth Jeffrey, 2nd) Emmanuel Gayraul 3rd) Nigel Jacobs
BMX 12-14 Years (3laps)
1st) Ammo Gomes 2nd) Sceon Thegg 3rd) Royden Squires
BMX Open (3laps)
1st) Brighton John 2nd) Adrian Sharma 3rd) Ammo Gomes
BMX 12-14 Boys and Girls (3laps)
1st) Avish Ramkellewan 2nd) Rakeem Blair
Veteran's Under-50 Years (5laps)
1st) Junior Niles 2nd) Marc Sonoram 3rd) Kennard Lovell
Veteran's Over-50 Years (5laps)
1st) Linden Blackman 2nd) Kevin Jeffrey
Veteran's Over-60 Years
1st) Monty Parris 2nd) Maurice Fagundes
BMX Boys 6-9 Years (2laps)
1st) Sherwin Sampson 2nd) Jeremiah Harrison 3rd) Alex Leung
BMX Boys 9-12 Years (3laps)
1st) Sherwin Sampson 2nd) Thuran Garbarran 3rd) Johnathan Jagdeo
Notes: The sum of 40 riders started the feature event. The 32nd annual Independence Road race will pedal off next weekend. The fastest time for the 35-lap event (1:14:01) was recorded by Hinds this year.
Around the Web