(Reuters) – Mike Brown was fired as head coach of the Cleveland Cavaliers for a second time yesterday after the team finished 10th in the Eastern Conference and missed the National Basketball Association playoffs.
Brown rejoined the struggling Cavs at the start of the season after previously being released from the Los Angeles Lakers.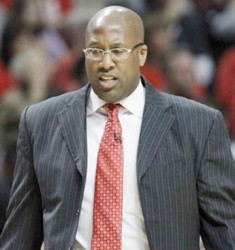 It was his second stint in charge at Cleveland. He served as head coach between 2005 and 2010 when the Cavs made the playoffs each time and LeBron James was playing for the franchise.
But the Cavs have not qualified for the postseason since James left in 2010 and went 33-49 under Brown this season.
"This is a very tough business. It pains all of us here that we needed to make the difficult decision of releasing Mike Brown," Cleveland team owner Dan Gilbert said in a statement.
"Mike worked hard over this last season to move our team in the right direction. Although, there was some progress from our finish over the few prior seasons, we believe we need to head in a different direction."
Gilbert also announced David Griffin has been appointed general manager after serving as an acting GM.
Around the Web