(Reuters) – The Los Angeles Clippers rallied for a wild 101-99 victory over the Oklahoma City Thunder on Sunday to even their best-of-seven Western Conference semi-final at 2-2.
The Clippers fell behind 22 points during the first quarter and never led until the game's final 83 seconds yet found a way to avoid being pushed to the brink of playoff elimination.
Reserve Darren Collison sparked the Clippers with 12 of his 18 points in the fourth quarter, scoring four straight to put Los Angeles ahead 101-97 with 32 seconds left.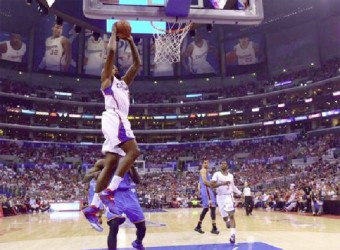 Collison, who went scoreless in the Clippers' Game Three loss, got a big confidence boost from head coach Doc Rivers despite his struggles.
"He told me to stay in there. No matter how many plays (the Thunder were making), just stay aggressive," Collison told reporters. "In the fourth quarter we were more aggressive, and made more plays than them."
Kevin Durant had a game-high 40 points and added seven rebounds in the crushing defeat, which ended when Russell Westbrook missed a three-point attempt at the buzzer.
"It was a good look," said Westbrook, of the final shot. "We didn't have any more timeouts to call one. It's a tough loss, but this is a series."
Westbrook finished with 27 points and eight assists.
Blake Griffin tallied a team-high 25 points while Chris Paul had 23 points and 10 assists for the Clippers' attack.
Los Angeles opened the series with a 17-point rout last week, but Durant and Westbrook responded strongly and had their team headed for a 3-1 series lead at one point on Sunday.
Oklahoma City held a 16-point advantage early in the fourth, but the Clippers turned the game around with a small lineup that saw the 6-foot Paul guard 6-foot-9 Durant in the final stages.
Guard Jamal Crawford factored into the late Los Angeles run and contributed 18 points to help rescue the home Clippers and stun the Thunder.
"That's the ups and downs of the playoffs," said Thunder coach Scott Brooks. "Now it's a best-of-three series and we have two (possible) games at home."
Game Five is today in Oklahoma City.
Around the Web