(Reuters) – Indiana's Paul George compiled a playoff career-high 39 points and added 12 rebounds as the Pacers edged Washington 95-92 to take a 3-1 lead in their NBA Eastern Conference semi-final series on Sunday.
The top-seeded Pacers trailed by 17 points at halftime but fought back to win their third straight game and take a commanding lead in the best-of-seven series.
The Pacers can advance to a second consecutive East final with a win in Game Five set for today in Indiana.After losing the series opener the Pacers have toughened up on defense to take control, holding the Wizards to a franchise-low 63 points in a Game Three win.
Paul ignited the offense on Sunday when he was aggressive early and scored 28 second-half points to lead a comeback.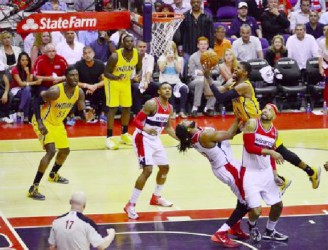 "In the first quarter I got into a rhythm and my team mates found me," said George, who played 46 of the possible 48 minutes.
"I already had it in my head that I was pretty much going to play the distance. I wanted to give whatever was needed."
Indiana center Roy Hibbert continued his resurgence with 17 points and nine rebounds. Hibbert's 12-foot jump shot with one minute left in the game gave the Pacers a 94-91 edge.
Bradley Beal scored a team-high 20 for Washington but the Wizards let a potential win slip away. The home team was outscored 33-17 in the third quarter to see their lead evaporate.
Trevor Ariza added 16 points and nine rebounds for the Wizards, who are lacking in playoff experience but are not ready to concede the series.
"(Lack of experience) is an excuse," said Wizards coach Randy Wittman. "I don't talk about that because I don't want our guys using that as an excuse. We have to go out and win a ballgame."
Comments

By Romario Samaroo One week prior to the start of the West Indies Super50 cup, the Guyana Jaguars yesterday released their 14-man squad which features five new faces.

The decision by the Guyana Olympic Association (GOA) to give a monthly stipend to a number of athletes and coaches must be commended.

Chairman of selectors for the national cricket team, Rayon Griffith, has emphasized the importance of fitness and the inclusion of players who are regarded as 50 overs 'specialists' as key elements to the Guyana Jaguars limited overs run.

By Noelle Smith Swimming officials from Guyana and Suriname will have to wait another month for Switzerland based international body, FINA, to assign a representative to facilitate a training programme here in Guyana.
Guyana Jaguars opener Chandrapaul Hemraj, who topped the Jaguar's batting run chart during their unbeaten run this season without registering a century says he is not bothered about it and many will follow once he gets the first.