(Reuters) – Indiana's Paul George compiled a playoff career-high 39 points and added 12 rebounds as the Pacers edged Washington 95-92 to take a 3-1 lead in their NBA Eastern Conference semi-final series on Sunday.
The top-seeded Pacers trailed by 17 points at halftime but fought back to win their third straight game and take a commanding lead in the best-of-seven series.
The Pacers can advance to a second consecutive East final with a win in Game Five set for today in Indiana.After losing the series opener the Pacers have toughened up on defense to take control, holding the Wizards to a franchise-low 63 points in a Game Three win.
Paul ignited the offense on Sunday when he was aggressive early and scored 28 second-half points to lead a comeback.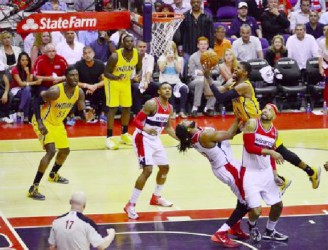 "In the first quarter I got into a rhythm and my team mates found me," said George, who played 46 of the possible 48 minutes.
"I already had it in my head that I was pretty much going to play the distance. I wanted to give whatever was needed."
Indiana center Roy Hibbert continued his resurgence with 17 points and nine rebounds. Hibbert's 12-foot jump shot with one minute left in the game gave the Pacers a 94-91 edge.
Bradley Beal scored a team-high 20 for Washington but the Wizards let a potential win slip away. The home team was outscored 33-17 in the third quarter to see their lead evaporate.
Trevor Ariza added 16 points and nine rebounds for the Wizards, who are lacking in playoff experience but are not ready to concede the series.
"(Lack of experience) is an excuse," said Wizards coach Randy Wittman. "I don't talk about that because I don't want our guys using that as an excuse. We have to go out and win a ballgame."
Around the Web