-Guyana/Barbados rugby clash
Coach Clinton Clarke and nine of the 23 players from the national rugby team departed on the first flight yesterday for Barbados ahead of their NACRA 15s clash with the host on Saturday at the Garrison Savannah.
The manager, John Lewis, physiotherapist, Barrington Browne and the remaining players will wing out on the second flight today.
Coach's thoughts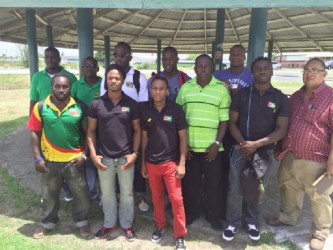 Prior to departure to kick start this year's campaign, Coach Clarke told Stabroek Sport that he "Expects a very good game from the local boys."
"The guys are 90% ready to play, we want to get past Barbados then we want to get past Trinidad and look to bigger things."
Clarke added "They were training hard for the last six weeks and all we are thinking of is a victory, we have two more practice sessions when the entire team lands on Barbados and by Saturday we will be 100% ready."
Keys to victory
Clarke also noted that the Barbadian players are historically bigger than the locals. As a result, the game plan is to use crisp ball movement, speed and agility to their advantage. The coach also mentioned that timely tackles will be another key to victory.
Once Guyana defeats Barbados, the national team will then play last season's Southern Zone winner's Trinidad and Tobago in Guyana on June 17 in what will be a virtual final.
Roster
Ryan Gonsalves (Captain), Richard Staglon (Vice-Captain), Chris Singh, Ronald Mayers, Claudius Butts, Rondell McArthur, Rickford Cummings, Grantley Williams, Jason Tyrell, Dwayne Schroeder, Filon Thompson, Clive Powell, Avery Corbin, Theo Henry, Ryan Dey, Delroy Gordon, Terrence Daniels, Jamal Angus, Kevon David, Cyon Kitt, Carl Lewis and Leon Greaves.
The contingent is scheduled to return on Sunday.
Comments

(Reuters) Three USA Gymnas-tics board members resigned yesterday in the wake of its former team physician sexually abusing female gymnasts, a step the organization said would support its reform efforts.

(Reuters) – The presidents of world soccer and world athletics are set to be snubbed by the International Olympic Commit-tee (IOC) next month when the body is likely to again overlook them for membership, a source told Reuters yesterday.

BRIDGETOWN, Barbados, CMC – The Vivian Richards Cricket Stadium in Antigua will host the final of the Women's Twenty20 World Cup later this year, the International Cricket Council confirmed yesterday.

By Charwayne Walker When Tagenarine Chanderpaul reached three figures against Barbados at the Kensington Oval in the ninth round of the Cricket West Indies Digicel-sponsored Regional four day championships earlier this month, the son of the legendary Shivnarine Chanderpaul had placed himself and his father on an elite fathers and sons list who had the distinct honour of scoring a century at the Regional First Class Level.

By Romario Samaroo Guyana Jaguars Head Coach, Esaun Crandon said Sunday that excellent preparation and planning were the factors mainly responsible for the Guyana Jaguars winning the just-concluded Cricket West Indies (CWI) Digicel Regional four-day competition.