Darcel Harris, head coach of the Georgetown Amateur Basketball Association (GABA) side said that he is confident his charges will claim the Guyana Amateur Basketball Federation (GABF) inter-association title, when the event commences on Saturday 17th in Linden.
Speaking in an exclusive interview via telephone, Harris said "We have had some pretty solid practice sessions in leading up to the game on Saturday and I am quite confident that we walk away victorious.
The guys have had a far longer training period together".
He added: "This time around the players have just come out of the Mecca and a number of other tournaments coming out of the Georgetown association, so their fitness level is high. The camaraderie and discipline towards the game is also far better than any other team I can remember."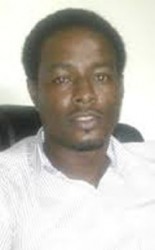 According to the Dynas Ravens coach "Coach Junior Andrew Hercules did a lot of technical work with them prior to now and the turnout was good. Training sessions were three days a week which were Sunday, Tuesdays and Thursdays at the Sports Hall and it was ok."
Questioned about the criteria that was used to select the team, Harris said: "Initially a squad of 25 players were called. Some players didn't make it because of injury and work commitment but the guys that we narrowed it down to which is the 15 players right now, are the cream of crop.
"The main thing was the chemistry and how the guys fit together on the court. We looked at that and the combinations we have within the 15 players is solid enough to pull through with the win".
The complete members of the squad are Akeem Kanhai, Jermaine Slater, Ryan Stephney, Shelroy Thomas, Dave Causeway, Nikko Fraser, Rudy James, Jason Squires, Stephon Gillis, Haslyn Hooper, Travis Burnett and Ryan Gullen.
The reserved list of players selected from the initial 25 member provisional squad are Nikkoloi Smith, Dominic Vicente and Joyclyn Crawford. The assistant coach is Junior Hercules while the statistician and physiotherapist is Dennis Clarke and Orin Forde.
The Georgetown side will begin their campaign on Saturday against their arch-rivals, the Linden Amateur Basketball Association (LABA) outfit at the Mackenzie Sports Club (MSC) Hard-Court. The female team is also in training and will be selected shortly.
Around the Web