The Ministry of Culture, Youth and Sports has thrown its considerable weight behind this year's Guyana Softball Cup4.
According to a release from the GFSCA, it met recently with Minister of Sport Dr Frank Anthony, where it was agreed that the ministry would team up with the Guyana Floodlights Softball Cricket Association (GFSCA) to run the fourth annual staging of the event in late October and early November.
"Members of the GFSCA will soon begin preparations. The minister will send two officials from his ministry at every meeting leading up to the tournament. The GFSCA and the Ministry of Sport, will be working together to make this three days international softball tournament a national event," a release from the GFSCA stated.
For the first time in its history teams from Trinidad and Tobago and Orlando, United States of America will be participating in the event joining regulars such as teams from Canada, New York, Miami, Fort Lauderdale and the host country, Guyana.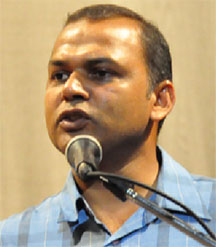 The tournament will be held on October 31 and November 1 and 2 at various venues in Georgetown with the preliminary rounds set for October 31 and November 1 at Bourda, the Police Sports Club ground, Eve Leary, the Demerara Cricket Club (DCC), the Muslim Youth Organization (MYO), the Young Men's Christian Association, Saint Stanislaus ground and the Ministry of Education ground.
Minister Anthony, the release stated, has promised that his ministry's ground on Carifesta Avenue, which has the potential to hold three matches simultaneously, will be in tip top condition for the international softball competition.
The finals will be played on November 2 at a venue yet to be decided.
Local teams in Guyana who want to participate in "Guyana Softball Cup 4" are advised to book their spot early since only a limited number of teams will be accepted. Interest is very high and many overseas teams have already done so.
Organising secretary of GFSCA, Wayne Jones at 650-1790 and Secretary Lalta Gainda at 680-3863 can be contacted for any information.
Cotton Field Wild Oats of Essequibo won the Guyana Softball Cup 1 open category with Regal Seniors winning the Masters over 40 category.
The winners of the second tournament were New York All Stars and Savage Masters while Trophy Stall and New York Better Hope were the winners of the two categories last year.
Nearly all of the sponsors for last year's tournament have indicated their intensions to be on board again for Guyana Softball Cup 4, the release stated.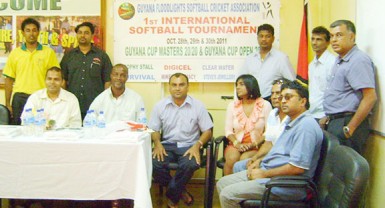 Comments

Ladies and gentlemen it's Showtime. All of the boxers on the six-fight 'Bad Blood' (Sangre Malo) card scheduled for tonight at the Cliff Anderson Sports Hall cleared their final hurdle yesterday by making weight in their respective weight classes.

Stumps on day two of Guyana's Jaguar's final round clash against the Trinidad and Tobago Red Force ended on a bittersweet note for young sensation, Sherfane Rutherford who fell agonizingly short of his maiden first-class century at the Guyana National Stadium, Providence yesterday.

LONDON, CMC – Under-fire West Indies Under-19s and their embattled captain, Emmanuel Stewart, have found backing from the historic Marylebone Cricket Club, in the controversial 'obstructing the field' dismissal of South African opener Jiveshan Pillay, during their ICC Youth World Cup match last Wednesday.

BRIDGETOWN, Barbados, Jan 19, CMC – Barbados Pride pace quartet of Chemar Holder, Keon Harding, Justin Greaves and Dominic Drakes brought to life a pedestrian day with hostile bowling in the final hour to put Jamaica Scorpions on the back-foot in the Regional 4-Day Championship on Friday here.

BASSETERRE, St Kitts, CMC – Devon Smith's bid at history proved anticlamatic when he suffered the indiginity of a one-ball 'duck' on the opening day of Windward Islands Volcanoes' final round match against Leeward Islands Hurricanes here Thursday.