MIAMI, (Reuters) – The Miami Heat fought back from eight points down in the final three minutes to beat the Brooklyn Nets 96-94 and secure a place in the NBA's Eastern Conference finals for the fourth straight year.
Reigning champions Miami claimed the series 4-1 but for a long time it looked as if they were going to suffer their first home loss of the postseason as Joe Johnson inspired the Nets with a game-high 34 points.
It was tough on a determined Nets after they trailed for less than six minutes in the entire game but coach Jason Kidd was able to find perspective at the end of the franchise's second season since their move to Brooklyn and their first since major roster rebuilding.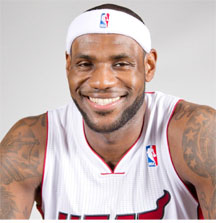 "It felt like we had a great opportunity against the world champions but we came up short. It is a process," said Kidd, in his first year as a head coach.
"Now it is time to keep building and keep the process going and getting better. To get to the second round of the playoffs gives us something to build on," he said.
Miami will face either the Indiana Pacers or the Washington Wizards in the Eastern final. Indiana led the series 3-2 going into yesterday's game six on their home court.
LeBron James top-scored for Miami with 29 points while Dwyane Wade, who scored 20 points in the first half, ended with 28.
A trademark three-pointer from the corner from Ray Allen put Miami 93-91 ahead with 32 seconds left, the first time they had led in the fourth, and though the Nets had the final possession, James made a game-winning steal on Johnson to seal the win.
Allen's shot, which recalled his game-tying effort in game six of last year's final against San Antonio, left his coach Erik Spoelstra purring.
"That's 'every day Ray', he just finds a way at the end. That is thousands and thousands of hours of practice and simulating pressure, that was a big-time three," said the Heat coach.
James had dominated game four with 49 points and not surprisingly, Brooklyn adjusted to make sure that he was kept out of range.
Dwyane Wade, whose 28 points were his best of the postseason, duly took over, delivering a blistering first-half.
"After coming off that last game with 49 points I knew that they were going to be aware of him and so I took it upon myself to be very aggressive early on and open the game up," said Wade.
Miami have now won 10 consecutive playoff series.
Comments
Colts secured wins over Kobras and Plaisance Guardians in the Open and U-23 Divisions, respectively, when the Georgetown Amateur Basketball Association (GABA) League Championship continued on Sunday, at the Burnham Court, at Carmichael and Middle streets.

LONDON, (Reuters) – The gradual decline of West Indian cricket is hardly a new phenomenon but the latest capitulation of a once-dominant test match power has brought genuine expressions of sadness throughout the sport.

LONDON, CMC – The fallout from West Indies' humbling innings defeat to England in the opening Test weekend has continued with several of the Caribbean players slumping in the latest International Cricket Council rankings.
Upper Demerara Football Association (UDFA) and Essequibo/Pomeroon Football Association secured easy wins when the UDFA GT Beer Inter-Association Championship continued on Sunday, at the Mackenzie Sports Club ground, Linden, UDFA downed East Coast Football Association 3-1.

(Reuters) – England's Stuart Broad wants to play in the home Ashes series against Australia in 2019, the paceman has said after passing Ian Botham to take second place on the country's all-time list of test wicket-takers.