By Tony Cozier
There is one immediately evident deficiency in the West Indies' training squads of 20 for their three forthcoming home Tests against New Zealand and the additional nine for the High Performance Centre's almost simultaneous series against Bangladesh 'A'.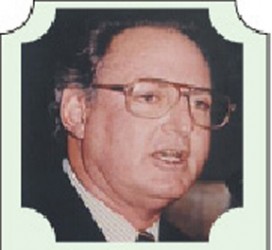 It is the dearth of genuine all-rounders, more specifically those capable of batting at No.6 and bowling decent spells as third seamer in an attack liable to rely heavily on spin. Of those called up to prepare for the New Zealand series only Dwayne Bravo, reinstated four years after his last, and 40th, Test, qualifies.
His value is dependent on his full recovery from the shoulder injury sustained in the 2014 Indian Premier League (IPL) and on how quickly he adjusts to the demands of five-day cricket following his extensive, almost exclusive involvement in the abbreviated formats.
The reason for such a shortage is straightforward.
With the exception of the Beausejours Stadium in St.Lucia and, occasionally, Kensington Oval in Barbados, slow home pitches no longer encourage fast bowling or uninhibited batting. The effect is that bowlers resort to spin, insecure batsmen struggle and all-rounders fade away.
Throughout Darren Sammy's tenure as captain, his modest medium-pace bowling and batting position as low as No.8 was said to be unbalancing the eleven. He should make away for someone else.
In Bravo senior's absence, whether through his preference for Twenty20 franchises or the selectors' choice, there was realistically no one else to fill the role. On Bravo's return, there is.
With no room for both in the eleven, Sammy's Test averages (21.68 batting, 35.79 bowling), more than his captaincy, led to his replacement by Denesh Ramdin and his decision to quit Tests altogether.
Apart from Bravo, those summoned to pre-series camps for New Zealand and Bangladesh 'A' contain only one other all-rounder with the potential to suit the immediate requirement – and he is in the HPC, rather than the Test, squad.
Carlos Brathwaite is a strapping, six foot-five inch Barbadian who impressed the selectors enough to be chosen for a couple of white-ball matches in Bangladesh in 2011. They subsequently lost interest until the recent domestic first-class season when his returns included his first hundred and timely spells of lively pace. His spirited stroke-play and his bowling match his physique; more batting consistency and a little more pace would boost his worth.
His overall record after 20 matches is respectable, 811 runs at 27.96 and 51 wickets at 20. Given the current standard of domestic cricket, such numbers might be overvalued; he requires more experience to determine whether he can make the transition to the higher level.
Otherwise, the cupboard is bare with no hint of a change.
There was no all-rounder in the team to the Under-19 World Cup in February; statistically, Ashley Nurse, who bats below his station at No.8, entered the category with a batting average of 42.57, and his maiden hundred, plus 32 wickets at 18.43 for Barbados in the first-class season but he is, primarily, an off-spinner.
The player who would be an ideal backup for Bravo will be on the other side next month.
The West Indies have already encountered the powerful batting and nippy bowling of New Zealand's 23-year-old left-hander, Corey Anderson. He whacked an incredible 131 from 47 balls, with 14 sixes, off them in an ODI last New Year's Day; in the preceding three Tests, he contributed useful runs and wickets.
England's Ben Stokes, 22, is another of the kind of young cricketer the West Indies could do with at the moment, a left-hander capable of a Test hundred against Australia as well as a right-arm seamer swift enough to keep batsmen honest. They are at the start of their careers. There is no certainty their early promise will flourish but it is better to have them now than not.
Australia (Shane Watson), Bangladesh (Shakib al-Hasan) and India (Ravichanran Ashwin) presently enjoy the benefit of a solid, established all-rounder.
South Africa's quest to replace Jacques Kallis, unquestionably the best of his time, is sure to be long, probably futile; Vernon Philander temporarily fills the breach with his incisive new ball bowling (111 wickets in 23 Tests at 20 each) and forthright late order batting (average 27.45).
The West Indies' problem is conpounded by their bowlers' inability to contribute even marginally to the total, as Philander does for South Africa, Chris Broad and Tim Bresnan for England, Mitchell Johnson and Mitchell Starc for Australia and Malcolm Marshall did during the West Indies glory days in the 1980s. The current tailend is little more than a hat-trick waiting to happen; there were four ducks in a row against the last four batsmen in the first innings of the second Test against New Zealand in Wellington last December.
The overall figures are damning. In their 19 completed Test innings over the past two years (against England, New Zealand, Bangladesh, Zimbabwe and India) the last four wickets average 41.68. Discount the 185 for the last wicket between Ramdin and Tino Best in the third Test against England at Edgbaston in 2012, it plummets to an underwhelming 33.72.
A Garry Sobers comes along once in a hundred years. It is fanciful to believe another is not far off. Such greatness cannot be ordered off the internet.
After Sobers retired in 1974, the West Indies have been well served by competent, if not great, all-rounders such as Keith Boyce, Bernard Julien and Carl Hooper.
It is an assignment for coaches in the Caribbean to encourage the development of a new group. The emerging players clearly have the incentive.
Around the Web