By Delvon Mc Ewan
A blistering unbeaten half century by Rawle Browne guided Police to the Georgetown Cricket Association (GCA)/ Carib Beer T20 title as they completed a comprehensive eight wicket victory against Georgetown Cricket Club (GCC), yesterday, at the Police Sports Club ground, Eve Leary.
Browne's exhilarating innings of 68 not out took his team to 120-2 in 15 overs replying to the 118 made by the GCC team. The experience and usually aggressive Browne, struck nine fours and two sixes as he combined with Ricardo Adams (33 not out) to share in an 84 runs unbroken third wicket partnership that took their team to victory. The chase began with Browne and Royan Fredericks adding 30 for the opening partnership before Fredericks was removed by pacer Joshua Wade for 11. Yadesh Dhanpaul then joined forces with Browne but the pair only added six runs before Robin Bacchus got rid of Dhanpaul for nought. Those two dismissals were the only scarce for the Police side who cruised to a comfortable victory with five overs to spare.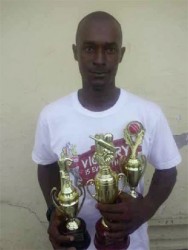 Earlier, GCC, who were sent into bat was off to a bad start losing national player Bacchus without a run on the board. However, Martin Pestano-Belle (37) and Renaldo Ali-Mohamed (28) were determined in their effort to set GCC a competitive total. Elon Fernandes also tried to keep GCC in the game with his fighting 14 against the accurate Police's bowlers. Troy Benn (3-18) and Randolph knights (2-25) were the pick of the lawmen bowlers while Jason Heyliger was very economical with his 1-15 in four overs.
Stabroek Sports was able to have invited comments from the GCA president Roger Harper and Carib Beer manager Nigel Worrell. In a brief comment, Harper said he was pleased with the competitiveness shown throughout the tournament, which he said was successful.
Worrell, in comparing this year's final with the tournament last year, which saw the winners coming from a number of league matches, stated that this format brings more excitement and support for the competition thus "Carib Beer will continue to support GCA with its development and interest for cricket."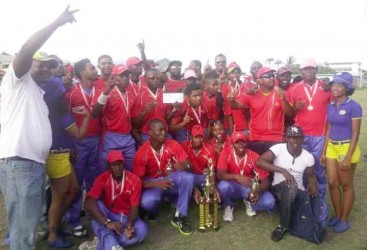 Worrell, who was also impressed with the players' performances during the tournament, said his company will be hosting a Champion of Champions competition next month involving the four semifinalist of the GCA/ Carib Beer T20 competition. The event promises to be an entire day of T20 action that will conclude with the finals in the night.
Several players were rewarded for their achievements during the tournament including zone "A" players, Gavin Singh (GCC) for his best bowling performance 6-20 from three overs, Chris Deonarine (72) (GYO); batsman with the highest score, Robin Bacchus (107) (GCC); batsman with the most runs and most valuable player, Sunil Singh (TSC); fielder with the most dismissals and Seon Daniels; bowler with the most wickets.
Zone "B", Cordel Mars (MSC); (7) bowler with the most wickets and best bowling performance, 4-18 from 3.3 overs, Christopher Barnwell; (182) batsman with the most runs, highest individual score and most valuable player, and Dexter Solomon (GNIC): fielder with the most dismissals.
Police took all the awards in the final. Rawle Browne won the awards for best batsman, best fielder and man of the match while Troy Benn won best bowler.
Around the Web