-Three-Stage cycle road race
Team Coco's Darren Matthews will roll into the hills of Linden this morning for the final leg of the Independence Three-Stage road race with the yellow jersey and a two-second lead on Geron Williams.
The 23-year-old Barbadian out pedaled 84 other wheelsmen to win the initial stage from Corriverton to New Amsterdam yesterday morning and followed it up with a second place finish to Team Heat Wave's Marlon 'Fishy' Williams to preserve his overall lead (4hr:07:11s).
Williams placed fifth in the first stage but now occupies the third overall position (4h: 07:15s).
Continental's Geron Williams biked in second and third in the respective stages to maintain his second place standing (4h: 07:13s).
Note: Three seconds was taken off Matthews' time in the first stage for an infringement of the rules so he was rewarded with a seven-second bonus instead of 10 leaving him tied for first place with Williams.
Quick Results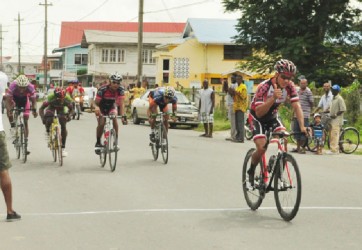 First stage 46 miles-Corriverton to New Amsterdam
Darren Matthews 1:44:16
Geron Williams 1:44:16
Delroy Hinds   1:44:18
Paul DeNobrega 1:44:20
Marlon Williams 1:44:23
Alanzo Greaves 1:44:23
Second bunch time 1:45:52
Second stage 60 miles-Rosignol to Carifesta Avenue
Marlon Williams 2:22:52
Darren Matthews 2:22:55
Geron Williams 2:22:57
Mauricio Rabayo 2:22:59
First stage
The top six riders along with Team Coco's Raynauth Jeffrey broke away from the other starters after about 10 miles of racing.
Jeffrey unfortunately suffered a puncture midway through the trek and lost valuable time changing his wheels.
The six leaders maintained their distance from the rest of the peloton by riding as a team until the final 200m.
As expected a fierce sprint finish ensued which was won by Matthews.
Second stage
The Team Coco's riders were the early pace setters and enjoyed a slim lead until the village of Dundee.
At this point, Team United's Orville Hinds attacked the peloton.
In the village of Sarah the peloton then reconnected with Hinds.
Soon after Williams and his team mate, last year's overall winner Jamol Eastmond proceeded on a two-man break.
Geron Williams, Delroy Hinds and Jude Bentley were then involved in a spill at Belmont trying to catch the leaders.
At Rebecca Lust there was another spill involving five other riders.
Meanwhile, race leader Matthews connected with the lead duo at Helena No.2
But Team United and the rest of the starters were hot on their wheels.
Williams, Matthews and Eastmond however rode as a unit to stave off the challengers that were barreling down on their wheels.
The high paced riding however took a toll on the three tiring cyclists who had journeyed all the way to Atlantic Ville.
Geron Williams connected and then Rabayo bridged the gap.
However, the tireless Marlon Williams and Matthews had enough left in their tanks to stave off the hard charging finishers.
Action starts today at 08:00 in Kara Kara, Linden.
A clear winner is not a foregone conclusion. Today's stage promises to be thrilling
Around the Web