Guyanese Challenger Clive "The Punisher" Atwell (12-0-1, 7 KO's) met face-to-face with World Boxing Council (WBC) featherweight champion Jhonny Gonzalez (55-8, 47 KO's) in Mexico.
According to reports out of the Spanish speaking country, Atwell did most of the trash talking at the press conference, but the defending champion seems confident in defending his crown on home soil at the Convention Center in Acapulco, Guerrero, Mexico.
The 32-year-old Gonzalez was hoping to face fellow Mexican Abner Mares in a rematch a few months back, but that fight fell through with Mares suffering a rib injury. Gonzalez camp touts the bout with Atwell as a stay busy fight because Atwell is not someone who will give Gonzalez any real challenge due to lack of skills, speed,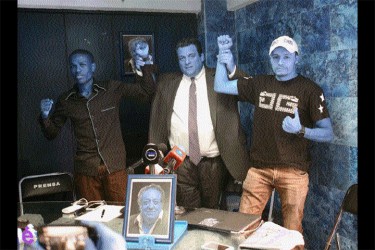 power and experience. According to inside sources the Gonzalez camp believes the fight won't last more than a round or two if Gonzalez takes it easy on Atwell and sees this fight as a mismatch.
Atwell, who enters the fight as a huge underdog has, however, picked up a few confident backers. US based promoter Seon Bristol, former world rated Bantamweight Leon Moore, Dillon Carew, Lennox Blackmore, top Caribbean promoter Carwyn Holland and others are confidently backing Atwell to pull off the upset. According to Holland, he believes Atwell has the style to beat Gonzalez but he must stick to his game plan. Holland also warned of taking careful steps while in Mexico and taking nothing for granted including the water provided for the boxer to drink.
Holland stated that in such a high calibre fight once you don't have the right people in your corner with the knowledge of some of the dirty tricks usually meted out to challengers, you are doomed.
Holland disclosed that he did brief his friend Atwell on some of the things to expect and he is glad that Seon Bristol, the experienced Daniels and Moore are there with him. Holland also calls on all Guyanese to support to youngster in his quest to bring Guyana Glory.
Around the Web