The Demerara Cricket Board (DCB), yesterday complimented the Demerara U-19 cricketers for their performances in the GCB U-19 Inter-County three-day and one-day competitions.
According to a release from the board, the team's performances transcend the game of cricket in Demerara and amply demonstrates the talent and ability that abounds in the county, since the victories were achieved under very challenging circumstances.
"After having a mixed experience in the round robin stage of the three-day format, the Demerara Under-19 youths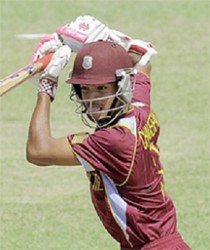 completely dominated the final game, taking it by an innings and 49 runs against the President's XI. "Then, in the 50 overs format, they managed to rise from the dust with a victory against Essequibo in their third round which saw them making it to the final where they outplayed the President's XI, who had earlier beaten them in the second round, to take the 2014 double title.
The DCB lauded Tagenarine Chanderpaul for his outstanding batting performances in both competitions.
"As expected, Chanderpaul came of age in this tournament and this augurs well for his confidence going forward. He won both the best batsman and most valuable player awards in the 50 overs contest as he accumulated 203 runs which included two half centuries, and captured five wickets. In the three-day contest, he scored a century in the game against the GCB President XI in the third round.
"The DCB further acknowledges and congratulates the Demerara U-15 team for winning the GCB Inter-County U-15 competition earlier last month and trust that our Under 17 boys would make it a clean sweep this year for Demerara.
"The DCB has been a much maligned county board in recent times by a few persons, but the hardworking executive committee of the DCB ensures that the teams are well prepared for these competitions and they have repaid the investment in them and made us proud with victories on the field of play for the second consecutive year."
In concluding, the release stated that the DCB have refrained from blowing our own trumpet in the past but no one seems to be recognizing these positive outcomes and making the appropriate comments.
Around the Web