Darcelle Harris, head coach of the Georgetown Amateur Basketball Association (GABA) side says that he is confident his charges will reverse their fortunes against the Linden Amateur Basketball Association (LABA) side on Sunday at the Cliff Anderson Sports Hall.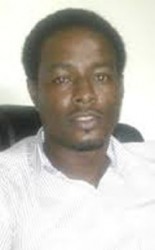 Speaking in an exclusive interview via telephone, Harris said: "I am disappointed with the loss, there is no excuse Linden played well. We had the goods to deliver and we should have. Being at home now we are expected to pull through.
"We have gotten past all the jitters, it's just a matter of putting things in place. Talent is never the worry on the Georgetown team, it's just the game time execution," said Harris.
According to the former national player: "Linden was good on the defensive end. They were very aggressive, rebounded well and won most of the loose balls. They were at home and the hard-court suited their style of play which was slow paced.
"It was unfamiliar turf for most of the guys but we going to be at home and we are expected home to win and to win convincingly because we have the more explosive guards and will be better able to show our style of play at the indoor facility."
Questioned about what specifically went wrong in the opening matchup, Harris said: "We missed a lot of open jumpers and we didn't convert like we should have. We also needed to be more disciplined on defense.
"It was just a bad day at the office. I don't think we will have a night like that at home. Against Linden, who play very good zone defense, you have to move the ball well and also have to make the open jump shot," added Harris.
Around the Web