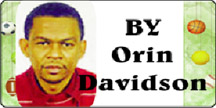 By Orin Davidson
As underdog status goes, Clive Atwell's is as extreme as they come.
When he steps into the ring tonight, in a quest to become the fourth Guyanese to win a world boxing title of full merit, Guyanese will be hoping for a minor miracle in Mexico.
Yet, great miracles have played out in sports before and Atwell will have to rely on his confidence, Guyanese boxing pedigree, game smarts and a clever corner, to justify his optimism of wresting Mexican, Jhonny Gonzales of his World Boxing Council (WBC) featherweight crown.
With more than four times as many wins as Atwell has in total fights, the Mexican will provide as tough a prospect any Guyanese fighter has ever faced for world and international titles.
To reach his goal Atwell has to accomplish a feat, two of Guyana's greatest fighters were unable to pull off.
Mexico presents arguably the most intimidating atmosphere anywhere in boxing, with its rambunctious partisan crowds, and although Gonzalez may not be the best to emerge from one the world's few boxing hotbeds, he is as experienced as many of the country's greats.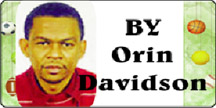 Atwell's 12-0-1 professional record stands like a molehill next to Gonzalez's mountainous 55-0-8 stats, and he will have to travel a road tonight, that the late Patrick Ford and Lennox Blackmore found littered with pot holes and obstacles in their otherwise stellar careers.
In the peak of their careers, both ex Commonwealth champions, stumbled in their quest for world titles in antagonizing circumstances.
In 1980, Ford battled Mexican phenom Salvador Sanchez in a thriller for the WBC featherweight crown in San Antonio, Texas, USA. After 15 draining rounds, the Guyanese was actually declared winner, following which the decision was reversed in the latter's favor, on claims of a slip of the tongue by the ring announcer, after the ring was bombarded by raining bottles from the 99 percent pro-Sanchez Mexican crowd. It might not have been Mexico City, but if you have been to that specific Texas city, it is everything Mexico even if the borderline is nearby.
Blackmore travelled to Las Vegas and was outgunned by American Aaron Pryor in a blowout second round knockout for the WBA super-lightweight in front of a crowd that was gaga about the fast rising exciting kayo specialist.
The ultra-amped-up Pryor was subsequently discovered to be a substance abuser, which justified the shock Guyanese fans felt at the swift demolition of the country's first Commonwealth champion. Ford tried again to win the elusive world title, but fell to the sturdy Eusibio Pedroza in his home town of Panama City in a typical daunting Latin American setting.
Andrew "Sixhead' Lewis, Wayne "Big Truck" Braithwaite and Vivian Harris all went on to win a succession of world titles for Guyana within the WBC (World Boxing Council) and World Boxing Association (WBA) ranks, which along with the and IBF (International Boxing Federation), should be considered worthy of merit, with due respect to all the fighters with the less significant WBO, WBU and IBO etc. titles.
Atwell's quest falls within the WBC ranks and a win over Gonzales would rank higher that his successful predecessors, given the magnitude of his task at the Acapulco Convention Center.
Despite the hullaballoo concerning his readiness for Gonzales and a meager purse value, Atwell seemed calm but not overly confident, on the eve of his departure for Mexico from New York, following his training camp at the famed Gleason's Gym
"We have seen a lot of his fights on tape and the weakness are there, which I will work on," the 25-year-old said without elaborating. "It is all about blocking out the distractions and crowd support he will have and focus on the man in front of me in the ring," Atwell added.
From the way he approached his last few fights including the toughest encounter of them all, against Rafael "El Potro" Hernandez of Venezuela, Atwell oozes outward tranquility, but he will need the braggadocio and smarts of a Mohammed Ali, to topple Gonzales, given his zero experience fighting away from Guyana, in front of a crowd which expects nothing short of a swift demolition job from their hometown hero.
Already the international boxing scribes are suggesting solutions the Guyanese could use to combat his first loss.
Yet if the 25-year-old can capitalize on the Mexican's ring rust, having not fought for nine months, he could stun the world.   Gonzales seems susceptible to body attacks, as is evidenced by the knockdowns he suffered over the years. And with age not in the champion's favor, him being on the wrong side of 30, his 25-year-old challenger has the chance of a lifetime.
According to Atwell's co-trainer, the former world ranked contender Leon "Hurry-Up" Moore, the bout should not be as tough as most observers feel. "I know it and he (Atwell) knows what type of attack is needed to wear down Gonzales",
Once ranked the WBC's number three super bantamweight in 2010, Moore has "been there and done that" and while on a hiatus from competition, he is a sought after trainer at Gleason's.
While admitting that Atwell is not a power puncher, he feels the two-week stint at Gleason's will go a long towards beefing up the fighter's velocity.
"I think we have enough experience in the corner to make up for his in-experience fighting away from home," stated Moore.     The two-man trainer team is completed by the evergreen Lennox "Cappell' Daniels.
Having fought in Colombia, Thailand and Kyrgyzstan among some of the many difficult destinations he traversed in 32 fights, Moore teamed up with Atwell and Daniels, who has handled the gamut of outstanding Guyanese boxers from amateur level to the pros, at Gleason's.
"I was one of his first trainers back home, so when he arrived here (New York), he bought my ticket to be in his corner in Mexico," explained Moore.
Given the attention he commands among a few of the never ending stream of pugilists that traverse Gleason's, the New York-based Moore could be the X-factor in Atwell's quest for glory.
"I fought many like Gonzalez and even if has all the experience in the world, I think I know how we could get at his faults," he explained.
It means Atwell's execution of the strategies will mean the difference between glory and his first loss.
Daniels was in no doubt his charge is primed to peak.   " I feel good about his chances, everything will work out," said the former Guyana Defence Force head coach, who helped   former Commonwealth welterweight champion, the late Andrew Murray clinch a world title crack at accomplished Ghanaian, Ike Quartey.
With Lewis's career effectively over, Braithwaite's at a standstill and Harris' on revival mode, a win for Atwell would dwarf their accomplishments, given the mountainous odds stacked against him.
Around the Web