(www.boxingnews24.com) WBC featherweight champion Jhonny Gonzalez (56-8, 48 KO's) retained his WBC title with a 10 round technical decision on Saturday night against #12 WBC Clive Atwell (12-1-1, 7 KO's) at the Convention Center in Acapulco, Mexico. The referee stopped the bout after Gonzalez was cut over his left eye from a head-butt. The fight then went to the cards with Gonzalez, 32, winning by the scores of 99-89, 96-92 and 98-90.
Gonzalez dominated the entire fight with his hard power shots and stiff jab. Atwell was much too slow to get anything going with his offense in the fight and he ended up taking one-way punishment from the 1at round until it was finally stopped in the 10th. Atwell would fire back with his shots, but he was so slow that it made it easy for Gonzalez to get out of the way of his shots without getting hit.
With this win, Gonzalez could be facing 34-year-old Jorge Arce next in another mismatch. Arce's not ranked in the top 15 by any of the sanctioning bodies at featherweight, but that's probably not going to stop the World Boxing Council from sanctioning a Gonzalez-Arce fight. A Gonzalez-Arce fight would be just a money fight and not likely one that would be competitive. Arce has a huge following in Mexico, so a fight between him and Gonzalez would gather a lot of attention from the fans if nothing else. Gonzalez would be too much for Arce and would likely stop him early the same way Nonito Donaire did.
The fight that fans want to see is Gonzalez vs. Abner Mares in a rematch. Gonzalez stopped Mares in the 1st round in their fight last year in August in a big upset win. They were hoping to face each other in a rematch, but Mares suffered an injury during training resulting in the fight not being able to take place.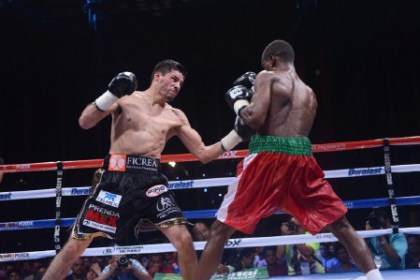 Around the Web