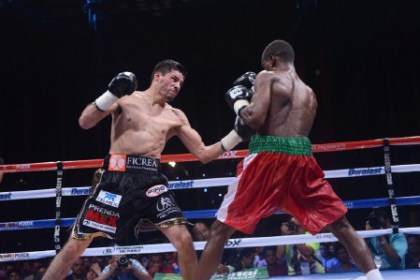 (www.boxingnews24.com) WBC featherweight champion Jhonny Gonzalez (56-8, 48 KO's) retained his WBC title with a 10 round technical decision on Saturday night against #12 WBC Clive Atwell (12-1-1, 7 KO's) at the Convention Center in Acapulco, Mexico. The referee stopped the bout after Gonzalez was cut over his left eye from a head-butt. The fight then went to the cards with Gonzalez, 32, winning by the scores of 99-89, 96-92 and 98-90.
Gonzalez dominated the entire fight with his hard power shots and stiff jab. Atwell was much too slow to get anything going with his offense in the fight and he ended up taking one-way punishment from the 1at round until it was finally stopped in the 10th. Atwell would fire back with his shots, but he was so slow that it made it easy for Gonzalez to get out of the way of his shots without getting hit.
With this win, Gonzalez could be facing 34-year-old Jorge Arce next in another mismatch. Arce's not ranked in the top 15 by any of the sanctioning bodies at featherweight, but that's probably not going to stop the World Boxing Council from sanctioning a Gonzalez-Arce fight. A Gonzalez-Arce fight would be just a money fight and not likely one that would be competitive. Arce has a huge following in Mexico, so a fight between him and Gonzalez would gather a lot of attention from the fans if nothing else. Gonzalez would be too much for Arce and would likely stop him early the same way Nonito Donaire did.
The fight that fans want to see is Gonzalez vs. Abner Mares in a rematch. Gonzalez stopped Mares in the 1st round in their fight last year in August in a big upset win. They were hoping to face each other in a rematch, but Mares suffered an injury during training resulting in the fight not being able to take place.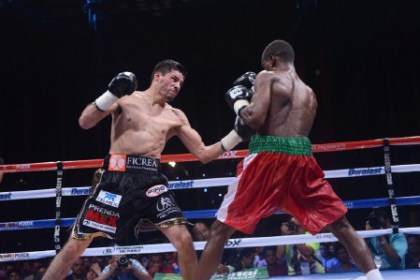 Comments

(Reuters) Three USA Gymnas-tics board members resigned yesterday in the wake of its former team physician sexually abusing female gymnasts, a step the organization said would support its reform efforts.

(Reuters) – The presidents of world soccer and world athletics are set to be snubbed by the International Olympic Commit-tee (IOC) next month when the body is likely to again overlook them for membership, a source told Reuters yesterday.

BRIDGETOWN, Barbados, CMC – The Vivian Richards Cricket Stadium in Antigua will host the final of the Women's Twenty20 World Cup later this year, the International Cricket Council confirmed yesterday.

By Charwayne Walker When Tagenarine Chanderpaul reached three figures against Barbados at the Kensington Oval in the ninth round of the Cricket West Indies Digicel-sponsored Regional four day championships earlier this month, the son of the legendary Shivnarine Chanderpaul had placed himself and his father on an elite fathers and sons list who had the distinct honour of scoring a century at the Regional First Class Level.

By Romario Samaroo Guyana Jaguars Head Coach, Esaun Crandon said Sunday that excellent preparation and planning were the factors mainly responsible for the Guyana Jaguars winning the just-concluded Cricket West Indies (CWI) Digicel Regional four-day competition.