Akshay Homraj, Rajiv Ivan and Shemaine Campbelle highlighted the Rose Hall Town Youth & Sports Club (RHTYSC) 24th annual awards ceremony held last Sunday at the St. Francis Xavier Training Centre, Berbice.
National U19 player Homraj was named Mohamed's Enterprise Cricketer-of-the-Year and carried home over $600,000 worth of prizes including an airline ticket to the USA compliments of Travel Span, $200,000 cash from Mohamed's Enterprise, electronic tablets, designer clothing and watches, household items and a bicycle among other spoils.
Campbelle, the West Indies female star, carted off $200,000 worth of prizes as the runner-up Cricketer-of-the-Year while national all-rounder Ivan received $100,000, West Indies medallion compliments of King's Jewellery World for his benefit year and at the next award ceremony would receive a financial grant from the RHTYSC.
The ceremony was chaired by Secretary of the St. Francis Xavier Roman Catholic Youth Club, Veronica Narain, and a comprehensive report of the RHTYSC was given by secretary/CEO Hilbert Foster.
He described the period January 2013 to May 2014 as a highly successful one despite numerous challenges, pointing out that the club successfully completed 200 programmes and activities while a total of 11 of its members represented Guyana at the different levels.
Special emphasis was placed on the pro-education an anti-suicide message while numerous organisational received assistance from the RHTYSC including the sharing out of $1M worth of school bags to less fortunate students and the distribution of $5M worth of educational footwear and hygiene materials.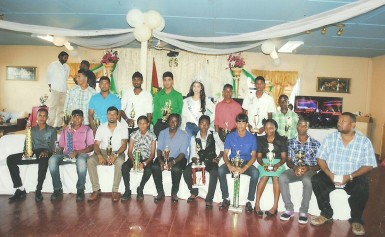 The RHTYSC also sponsored 32 sports tournaments in Berbice and assisted over 40 sports organisational with gear, uniforms and stationery. Among the numerous other projects undertaken were annual cricket academy, annual summer camp, annual magazine, tribute to heroes, mathematics camp, mother of the year, Basil Butcher Cricket Trust Fund, Western Union Junior Cricketer Trust Fund, Ansa McAL Award of Excellence and Gregory Gaskin Award for Sports.
President of the RHTYSC Keith Foster hailed the achievements of the club and traced the struggles of the club since its formation in 1990. He noted that it took dedication and hard work to make the club what it is today.
Other speakers at the event included President of the Guyana Teachers Union Mark Lyte, former West Indies Test legend Basil Butcher and Father Ramesh Vanan of the St. Francis Xavier Roman Catholic Youth Club. They all praised the outstanding work of the RHTYSC and for the positive difference it is making in the lives of youths, the elderly and less fortunate.
Minister in the Ministry of Finance Bishop Juan Edghill delivered the feature address. Edghill spoke of the importance of discipline, hard work and how to achieve goals.
Edghill challenged the management and members of the club to always strive to uphold the high standards they have set themselves and to share their vast experience with others as many view the RHTYSC and its membership as positive role model.
The club also used the opportunity to unveiled major plans for its upcoming silver anniversary celebration in 2015 and the hosting of a countywide scrabble tournament. The club during the ceremony also hosted the tribute to heroes, tribute to retired teacher and tribute to teachers programme. The full list of the awardees for the RHTYSC 24th annual awards ceremony is:
1. Farfan and Mendes under 15 batsman 2013-B Yadram
2. Farfan and Mendes under 15 bowler 2013- Brandon Corlette
3. Farfan and Mendes under 15 cricketer 2013- B Yadram
4. Bake well under 17 batsman- Brandon Prasad
5. Bake well under 17 bowler- Azam Khan
6. Bake well under 17 cricketer- Brandon Prasad
7. Pepsi under 19 batsman- Akshay Homraj
8. Pepsi under 19 bowler- Keon Sinclair
9. Pepsi under 19 cricketer- Akshay Homraj
10. Metro female batsman- Shemaine Campbelle
11. Metro Female bowler- Erva Giddings
12. Metro female cricketer- Shemaine Campbelle
13. Bake well second division batsman- Devin Baldeo
14. Bake well second division bowler-S Shameer
15. Bake well second division cricketer-S Shameer
16. Gizmos and Gadgets first division batsman- Rajiv Ivan
17. Gizmos and Gadgets first division Bowler- Clinton Pestano
18. Gizmos and Gadgets First division cricketer- Rajiv Ivan
19. Most discipline male player Kumar jeer
20. Most discipline female player- Shabika Gajnabi
21. Most committed Member- Plaffina Millington
22. Most improve Cricketer- Veeramootoo Senwasie
23. Most promising cricketer- Kevlon Anderson
24. Fielder of the year- Dominic Rikhi
25. Clubs role model of the year- Assad Fudadin
26. Worker of the year- Moonish Singh
27. Benefit of the year- Rajiv Ivan
28. Runner up cricketer of the year- Shemaine Campbelle
29. Cricketer of the year- Akshay Homraj
30. Most committed cricketer- Dominic Rihki
Around the Web