Guyana's world renowned bodybuilder, Hugh Ross is once again on a mission to hoist the Golden Arrowhead on the highest pinnacle.
After hosting a successful 2014 Hugh Ross Classic (HRC) at the National Culture Center on March 29, Ross returned to his training base in New York on April 7 and immediately commenced preparations on the same day to compete at the 31st NABBA World Bodybuilding Champion-ships on June 7at the Belfast Waterfront in Northern Ireland.
Ross won the Masters category of the championship in 2012 and is aiming for a repeat.
Ross said he used the time while on the flight back to New York to meticulously draft out his training and diet plan for his mission, hence, he knew precisely what he needed to do the moment he got back.
It usually takes the muscleman 12 weeks of intense training and dieting to be fully contest ready but from the date of his return,  the contest date, he was left with a mere seven weeks, excluding the final week which is basically for manipulating carbohydrates, water & sodium intake plus traveling, etc.
That left him with the seemingly impossible task of completing the equivalent of 12 weeks of intense training and dieting in seven weeks.
Diet
To accomplish that feat he has been training every day of the week and twice daily on the days when he is off duty from his regular job without fail, while consuming seven small low carbohydrate meals per day.
Work Ethic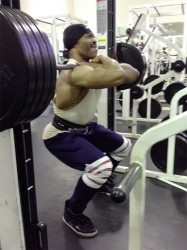 Ross is well known for his discipline, training intensity and ferocity in the gym but this time around, according to eye witnesses and his training partners as well.
The 54 year-old has taken it to a whole new level which seems almost inhuman.
Not being able to endure such grueling workouts consistently, his training partners decided to take turns as to whom will show up on which day.  Ross said "I am well aware that I have been deliberately pushing into uncharted waters but that's simply because I do know that to get to where you have never been, demands that you do what you have never done".
Career highlights
The behemoth has the unique distinction of winning the US National Championships in both Masters Powerlifting and Bodybuilding. He also holds dozens of other titles such as CAC Double Gold Medalist, Multi times Musclemania Masters and Open Light Heavyweight 1st Place Winner, Musclemania Professional Card Holder, Musclemania Fitness Atlantic Professional Division Winner, 2010 NABBA Masters ,Mr. Universe, 2012 NABBA Masters World Champion to name a few.
He is also an American Council on Exercise certified Personal trainer for over 15 years and is also a third degree black belt martial arts exponent.
Ross was awarded Guyana's 2010 Sportsman of the Year and is also a Medal of service recipient.
Even more unique, is the fact that this ex GDF Special Forces Officer, paratrooper and Jungle Warfare expert is his own trainer, dietician, manager and administrator.
When asked whom his sponsors are for his present contest preparations since it is a well-known fact that such an undertaking is a very costly venture, his surprising response was that he has none to date.
Support is welcomed
However, the national hero is looking to garner corporate support and can be contacted via the HRC Committee's General Secretary/Treasurer, Alison Yhap on 665-2950.
Ross departs New York for competition in Ireland via Germany and London approximately four days prior to the event to acclimatize. (Emmerson Campbell)
Around the Web