Minister of Culture Youth and Sports, Dr. Frank Anthony on Monday signalled his support for the Guyana Floodlight Softball Cricket Association's (GFSCA) quest to illuminate more grounds across Guyana.
Dr Anthony made the disclosure after endorsing the commissioning of the recently elected floodlights at the Demerara Cricket Club (DCC) ground in Queenstown.
During the simple ceremony held at the DCC pavilion, Dr. Anthony along with members of the GFSCA and executives of the DCC unveiled a plaque which depicted the partnership between DCC and the GFSCA.
Dr. Anthony began his speech by wishing the country a happy 48th Independence anniversary before lauding the two organisations for their teamwork in making the project of establishing the floodlights at the venue a reality.
According to the minister such partnerships were hard to develop.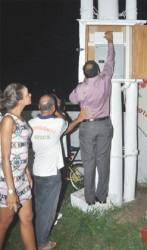 He hailed the DCC's 102 years spent developing cricket while recognizing the GFSCA's continued efforts to make softball cricket an integral part of healthy lifestyles for Guyanese.
According to the minister playing softball cricket affords players an additional avenue for indulging in the sport after some might have retired from the more professional level.
He pointed out that the GFSCA is a reservoir that overseas-based Guyanese who return to Guyana every year tap into because of their desire to participate in cricket and said that cricket and sports in general can be used as a weapon to combat obesity in the country.
He suggested that DCC along with other sporting bodies can take advantage of the ministry's facility which aids sporting bodies in the country in acquiring one million Guyana dollars for the development of their entities by virtue of following simple steps which are then produced to the ministry in order for the loan to be processed.
Earlier, DCC Vice-President and acting-President Ian John, speaking in the absence of president Alfred Mentore who is currently overseas, thanked the minister and the GFSCA for their support in the club's venture to make DCC one of the country's most prominent sporting facilities.
GFSCA President Ramchand Ragbeer explained that the historic project took tremendous efforts from both clubs along with the Ministry of Sports in order to become a reality. He expressed gratitude towards the minister for his unflinching support during the conception of the project.
The vote of thanks was given by West Indies and Guyana all-rounder Chris Barnwell who thanked everyone on behalf of the club for making DCC a place where cricket can now grow from strength to strength.
Also on the card for the evening was a feature match between the DCC XI and a Rest of Georgetown XI but consistent showers throughout the day halted the highly anticipated encounter.
Around the Web