Leading supplement and fitness products supplier, Fitness Express, has once again answered the call for support of a sporting discipline.
Fitness Express (47 Sheriff Street, Campbellville) yesterday presented a cheque to committee member of the Guyana Amateur Powerlifting Federation (GAPF), Erwyn Smith to aid in this year's Claude Charles Memorial Intermediate and Masters Powerlifting Champion-ships.
The championships, scheduled for June 22, will be held at the YMCA Thomas Lands simultaneously with the GAPF fund raising BBQ.
According to a press release for the GAPF, YMCA has also provided its venue free of cost with all amenities and will be serving BBQ from noon.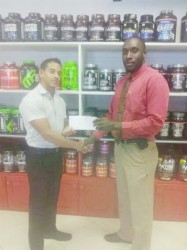 Tickets for the meal will cost $1,200.
Competition will start at 10am and spectators will be treated to fierce rivalry as Novices overall male and female champions, Roger Callendar and Andrea Smith will be expected to repeat their dominant performances at this competition.
This will not go unanswered as bodybuilder, Orlando Dublin, a 2013 Novices powerlifting competitor has indicated his intention of participating and being a main contender for the best lifter title.
A beastly performance can be expected from Steve Ramnarine out of Hard Core Gym in Berbice and Ahmad Rozan of Elite Fitness. Telisha Roland of Kingsrow Barbell Club and Chloe Hunter of Buddies Gym will also be strong contenders for the female best lifter title.
Lifters are being urged to register early as late registration will not be tolerated. Deadline is set at June 13 and athletes can uplift forms at Basic Beauty on North Road or any member of the GAPF.Novelty events will also be held from 16:30hrs. Prizes for all strength sports enthusiasts will be up for grabs. Tickets for entry to the competition cost $500.
Comments

Guyana Jaguars yesterday completed a resounding innings and 81 runs victory over the Trinidad and Tobago Red Force on the final day of the Cricket West Indies (CWI) regional four-day first-class season at the Guyana National Stadium, Providence.

Winners of the seventh annual Trophy Stall doubles championships received their prizes last Friday at the grand Guyana Tennis Association 2017 annual Awards Ceremony.

There were no surprises as two-time Olympian Winston George and Natrena Hooper were named the Senior Male and Female Athletes-of-the-Year for 2017.

The ascension of Dexter 'De Kid' Marques in the world flyweight ranks continued on Saturday night at the Cliff Anderson Sports Hall.

By Noelle Smith World ranked tennis player Sachia Vickery was Friday honoured by the Guyana Tennis Association (GTA) and showed her appreciation by giving back to the GTA and a  bevy of young players through a donation of tennis equipment.