A Yunnis Yusuf's half century propelled Phone Paradise to a nine-wicket victory over Superior Woods when the King's Jewellery softball tournament continued recently at Thirst Park.
Yusuf, who scored a blistering unbeaten 65, received support from Mahendra Arjune who was also unbeaten on 35 in Phone Paradise's 117-1 in 10.1 overs.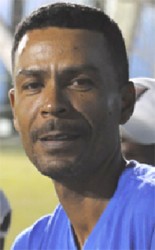 Superior Woods innings was inspired by Randy Katwaroo who top scored with 35 while Rudolph Johnson 4-15 and Doodnauth Ramdeen 3-9 were the chief wicket takers for Phone Paradise.
In the second game Frontline overcame Superstar by seven wickets. Superstar, who batted first made 138-4 in 15 overs with S. Mohan the principal scorer with 69. T. Mars took 2-20 for Frontline who replied with 139-3 in 12 overs. Ramo Malone scored an entertaining 75 and K. Singh 46.
Around the Web