Parika Defenders and Trophy Stall Angels won their respective male and female titles of the Independence Softball Competition hosted by the Enmore Cricket Club on Independence Day at the club's ground in Enmore.
In women's finals Trophy Stall, spearheaded by June Ogle's half century, defeated Mike's Wellwoman by eight runs to win the exhilarating finals. Batting first, Trophy Stall Angels made 96-6 in 10 overs, with Ogle top scoring with 61.In response, Mike's Wellwoman were restricted to 88-9 in 10 overs, S. Chichester top scored with 23 as Alicia Allen took 2-10 for Trophy Stall Angels.
In the men's finals, Parika Defenders defeated Floodlights by six wickets. Scores for that match were unavailable at press time.
Earlier, the first female match-up saw Mike's Wellwoman destroy 4R Lioness by 34 runs. Mike's Wellwoman scored 103-4 after taking first strike, with Abena Parker, the principal scorer, copping 47. Abigale Scott took 2-24 for 4R Lioness who were bowled out for 69 in reply. West Indies female player Shermaine Campbell (24) was the only player to show determination at the crease for 4RLioness.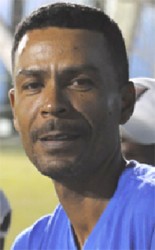 In the second match, Blue Divas lost to the Trophy Stall Angels by seven wickets with 2.1 overs remaining. Blue Divas reached 75-3 in 10 overs, with Kamawante Persaud making 29 while Ananda Roberts and Monica Seals took two wickets each. Trophy Stall Angels cleared off their target with Odessa O'Neil and June Ogle's innings of 31 and 21, respectively.
In the first men's match, the Parika Defenders claimed victory by 10 runs over Enmore denying Ramo Malone all-round effort for the home side. Malone scored an unbeaten 68 and took 3-15 in a losing cause as his team was bowled out for 133 replying to the visitor's 143-3 in 20 overs. Hakim Majid and Kabesh Persaud were the joint top scorers for Parika Defenders with 33 each.
Floodlights recorded a comprehensive victory over Mike's Wellman in the second game. Floodlights scored 207-7 in 20 overs, with Jagdish Persaud making 94 while Mike's Wellman responded with 124 all-out in 15 overs to lose by 83 runs.
Around the Web