LONDON, (Reuters) – Bald or fair-headed players are more likely to score in a penalty shoot-out but England have little hope in the World Cup either way, according to renowned British cosmologist Stephen Hawking.
The author of the bestselling 'A Brief History of Time' was commissioned by a British bookmaker to look at an even briefer 90 minutes – plus extra time – and crack the secrets of World Cup success.
Or, more specifically, England's lack of it since 1966.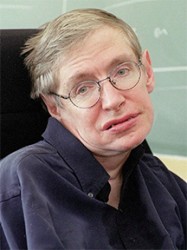 Unsurprisingly, the light-hearted findings published on the Paddy Power website do not demand a doctorate to decipher even if some of them remain as mysterious as the darkest depths of the cosmos.
"It is widely accepted in the field, that a key factor of achieving World Cup champion status is winning matches," Hawking, who tipped Brazil to win, stated in his opening comments to the report.
England, he discovered, could maximise their chances in Brazil by wearing red shirts, playing 4-3-3, kicking off in the afternoon and avoiding referees from the Americas who are less sympathetic to their style of play.
They play better in cooler climates and are more likely to succeed the closer they are to sea level – which suggests England's best chance of the finals is against Costa Rica in Belo Horizonte.
The potentially destabilising presence of wives and girlfriends, otherwise known as WAGs, was deemed irrelevant.
The national side have endured three penalty shootouts in World Cup finals, losing all of them.
"As we say in science, England couldn't hit a cow's arse with a banjo," Hawking observed, while seeing a potential remedy in the statistics.
"There is no evidence that it's advantageous to be left or right-footed but fair haired and bald players are more likely to score," observed the wheelchair-bound theoretical physicist, who was diagnosed with motor neurone disease at the age of 21 and speaks with a computer-generated voice.
Around the Web