KOLKATA, India , CMC- West Indian mystery spinner Sunil Narine says he is surprised that his bowling technique, which has been a consistent nightmare for batsmen the world over, has not yet been decoded.
The Trinidadian spinner has hoodwinked most batsmen across three seaons of the prestigious Indian Premier League (IPL) with a host of variations but says he is not worried that batsmen will figure out his technique.
"Sometimes I am surprised that they already haven't with all the technology available nowadays," Narine told the Hindu.
"I do not fear that though, as I only concentrate on working harder and just focus on trying to do my bit as best as I can".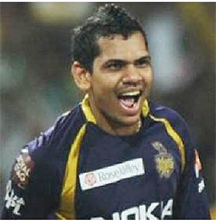 Narine's economy rate of 5.65 is the best in the IPL, containing batsmen and holding the record for the most four-wicket hauls in the league.
He has picked up 20 or more wickets in three consecutive editions of the IPL, 24 wickets in 2012, 22 wickets in 2013 and 20 so far in 2014.
"I do try and be accurate more often as that's always the key," said Narine.
"Variations in this format are always a very good option to have as they have the batsmen guessing".
Narine's numbers in Tests are below par, averaging over 40 and a strike rate touching 80.
"It's something I am still trying to learn and understand," Narine said.
"I am sure if I work hard at it and continue to get opportunities I will get better at bowling in that format. Endurance and patience are the key [factors] in Tests."
Narine's Kolkata Knight Riders secured their spot in the final of the IPL with a 28-run victory over Kings XI Punjab on Wednesday.
Around the Web