Black Hawks Senior Martial Arts Instructor Roland Eudoxie was successful in his debut at the North American Federation of Martial Arts (NAFMA)
Championships in Atlantic City, New Jersey.
The championships, which was held on May 23-24, saw Eudoxie placing first in weapons, second in forms and third in the flying front kick and flying side kick in the black belt division of the tournament.
Following the conclusion of the championships, Eudoxie was inducted into the Martial Arts Hall Of Fame as a result of his outstanding performances.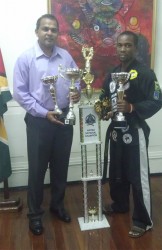 Eudoxie says the induction was an honor for him while it placed Guyana on the map.
He explained that it was his first international championship and said that the experience was challenging as it presented a higher standard of competition and a more intense environment for the respective competitors.
Eudoxie said that it is every tutor's dream to be nominated for such an achievement.
"Such success can only come from hard work and determination which leads one to retrieve such an award is an honor," said the elated karateka.
The senior instructor also thanked the Ministry of Culture, Youth and Sports, Farfan and Mendes, the United States Embassy and North West TV.
He also indicated that Master Torres will be coming to Guyana next month in order to launch a new style of the ancient arts called Tang Soo Do, which is of Korean origins while Eudoxie will be the head Instructor for the classes.
Around the Web